Easter Prayer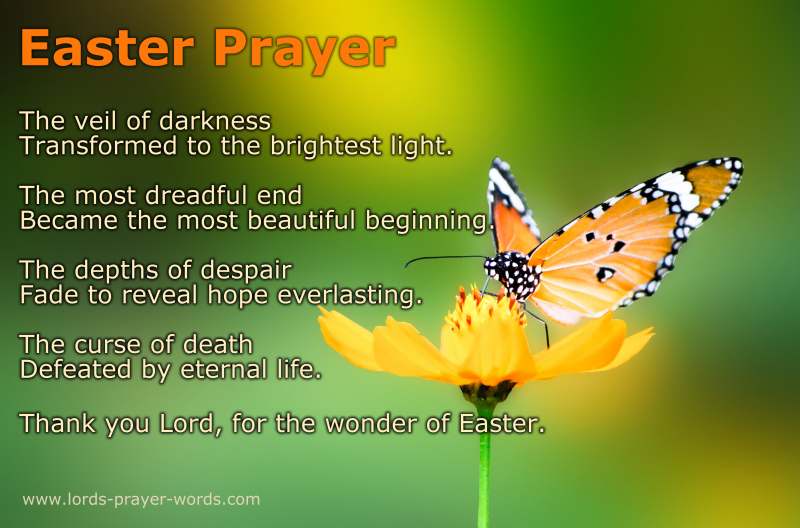 Love Overcame
(
view the film here
)
Love overcame
Emerging from a cold tomb
All the truth, majesty and creativity of a living God
Transforming a broken heart
Making a quiet return, in a still and sorrowful garden
The grave stone rolled away, to release redemptive love
Jesus resurrected and restored
Comforts a weeping woman
Speaks with travellers on a journey
Meets with his faithful friends
And they bow down before Christ alive
And acknowledged that the saviour has arrived
That the word of God has come alive
And that the extraordinary transformation of heaven and earth
Is complete
"Love Overcame" copyright © 2014 Julie Palmer
The great gift of Easter is hope - Christian hope which makes us have that confidence in God, in his ultimate triumph, and in his goodness and love, which nothing can shake."
Basil C Hume, (1923-1999)Cardinal Archbishop of Westminster
Almighty God, who through your only‑begotten Son Jesus Christ overcame death and opened to us the gate of everlasting life:
Grant that we, who celebrate with joy the day of the Lord's resurrection, may be raised from the death of sin by your life‑giving Spirit;
through Jesus Christ our Lord, who lives and reigns with you and the Holy Spirit,
one God, now and for ever.
Amen.
source: Book of Common Prayer, 1979 version, Protestant Episcopal Church in the USA.
A Prayer before a crucifix
by St. Francis of Assisi

Most High, glorious God, enlighten the shadows of my heart, and grant unto me a right faith, a certain hope and perfect charity, sense and understanding, Lord, so that I may accomplish Thy holy and true command.

Catholic Easter Prayer

Lord, the resurrection of Your Son

has given us new life and renewed hope.

Help us to live as new people

in pursuit of the Christian ideal.

Grant us wisdom to know what we must do,

the will to want to do it,

the courage to undertake it,

the perseverance to continue to do it,

and the strength to complete it.

source: New Saint Joseph People's Prayer Book
A reading from Matthew 27:27-54 from The Message Bible, retelling Christ's journey to the cross - his mocking at the hands of the Roman soldiers, the carrying of the cross by Simon, the crucifixion of Christ. The video ends with a meditation on Hebrews 12:2-3, which encourages us to fix our eyes on the risen Christ:-
Do not abandon yourselves to despair. We are the Easter people and hallelujah is our song.
Pope John Paul II, (1920-2005)
Childrens Easter Prayers
An Easter prayer for teenagers
Jesus, you have overcome death
And conquered every fear I could imagine
Help me to live each day remembering that You are alive
That You are bigger than anything or any situation
And that Your power is real
Jesus, you're my hero and I'm walking with you.
Amen.
(a short modern Easter prayer suitable for older children or teenagers)
•
read more
prayers for teenagers here.
Further Easter teaching and prayer resources for Children:-
•
Two Easter Children's Prayers
Two contemporary prayers from living-prayers.com, with a simple rythming prayer for infant or preschool children, and a slightly longer prayer for primary aged children, suitable for saying in a church service or school assembly.
•
An Easter Children's Lesson
An easter celebration activity for children with a short prayer, suggested bible reading and creative craft activity ideas involving making a mobile. Suitable for primary school children.
•
Two More Easter Childrens Prayers
A site with two Easter prayers suitable for primary or high school children. The prayers contain thanks to God and also have an outward quality.
•
"Time for joy and time for giving"
a prayer for children to live the message of Easter throughout the year.
Easter Prayer
The veil of darkness
Transformed to the brightest light.
The most dreadful end
Became the most beautiful beginning.
The depths of despair
Fade to reveal hope everlasting.
The curse of death
Defeated by eternal life.
Thank you Lord, for the wonder of Easter.
a contemporary prayer for Easter day from www.lords-prayer-words.com