Sample Prayers
This website features many prayers for different occasions (such as baptisms and weddings), and for different types of requests to God - for example, prayers for healing, forgiveness, peace and guidance. There is also a section with family prayers, school prayers, famous prayers and examples of prayers for events through the church year (such as Easter, Thanksgiving and Christmas).

The following is a small selection of prayers from this site:-
Sample morning prayer
Sample prayer for healing
Lord Jesus, you are the master of life and death. Everything I have is yours, and I love you very deeply. Just one touch from you restores the sick, heals the broken, and transforms the darkness.
Only you can do this
Only you
So I ask that you would be with (
name
) right now....
read more here
Sample prayer before meals
Blessed are you, O Lord God, King of the Universe,
for you give us food to sustain our lives and make our hearts glad;
through Jesus Christ our Lord.
Amen.
(source: The 1979 Book of Common Prayer of the Protestant Episcopal Church, U.S.A.)
• read more prayers for meals here
A reflection on God's provision and faithfulness through the changing seasons of our lives:-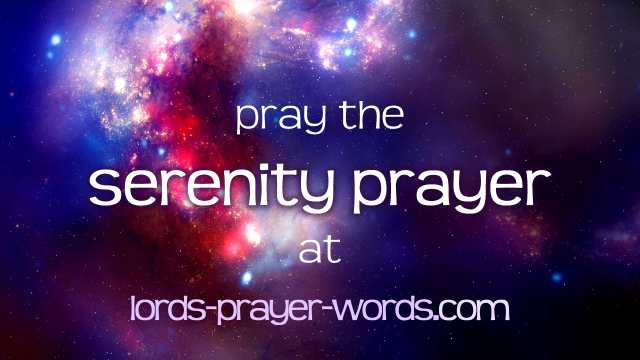 When the solution is simple, God is answering.
(Albert Einstein, theoretical physicist, 1879-1955)
A short prayer giving the working day to God:-
click here
for more prayers to say for the working day.
This site also has a selection of popular prayers drawn from the Anglo-Catholic and Celtic traditions of Christianity. For example, the
Serenity prayer
- a simple request to God for courage, wisdom and serenity, and the prayer of
St Francis of Assisi
("Lord, make me an instrument of your peace".)

Prayer of St Richard

Thanks be to you, our Lord Jesus Christ,
for all the benefits which you have given us,
for all the pains and insults which you have borne for us.
Most merciful Redeemer, Friend and Brother,
may we know you more clearly,
love you more dearly,
and follow you more nearly,
day by day.

Amen.

Birthday prayer
May our God bless you today
and each day that follows
May you hear his voice
Follow His footsteps
Be comforted by His care
And live in His grace
Now and forever
Amen
(a birthday prayer from www.lords-prayer-words.com)

• more prayers for birthdays here

Also see this section of the site for other events such as wedding anniversaries, baptisms and meetings.