Children's Bedtime Prayers
Featured on this page are several simple prayers that you can pray with your child before sleep at bedtime. If your son or daughter is old enough, they may be able to read these for themselves (alternatively, you could say a line and then they could repeat it after you). Also on this page is the popular night prayer "Now I lay me down to sleep", as well as parents prayer for protection over their child and family.
Hi, it's me!
A short bedtime prayer to say with your child
Hi, it's me, just come to pray
And thank you for a fun filled day!
You've been with me, so I know you've seen
All the great exciting things.
But also when I'm sad or cross
I know you love me, no matter what!
So help me rest and go to sleep
And feel the peace of your love for me.
Amen.
(A children's prayer from www.lords-prayer-words.com)
bedtime prayer for a child to say before sleep
Jesus,
You know me.
You understand my thoughts.
You protect me when I'm scared.
You encourage me when I'm nervous
You comfort me when I'm hurt.
You jump with me when I'm excited.
You smile with me when I'm happy.
You watch over me as I sleep.
Thank you.
(a bedtime prayer for children from www.lords-prayer-words.com)
read more prayers for children to say including prayers for the
morning here
.
Now I Lay Me Down To Sleep
(a popular bedtime prayer for children & toddlers)
Now I lay me down to sleep,
I pray the Lord my soul to keep.
May angels watch me through the night,
And wake me with the morning light.
Amen.
source: traditional
Prayer for family protection
(a prayer suitable for a parent to pray for the wellbeing of their children)
Lord be besides us, all every day
Guiding and leading us gently always.
Lord be above us, help us to see
The hope of the future, of all we could be.
Lord be beneath us, carry us when
We're too shattered or tired to really have strength.
Lord be ahead of us, smoothing our paths
Protecting and blessing the places we pass.
Lord be behind us, healing our wounds,
Forgiving our mistakes and making us new.
Jesus, be within us, this family is yours
Now and forever, you are our Lord.
(a family prayer from www.lords-prayer-words.com)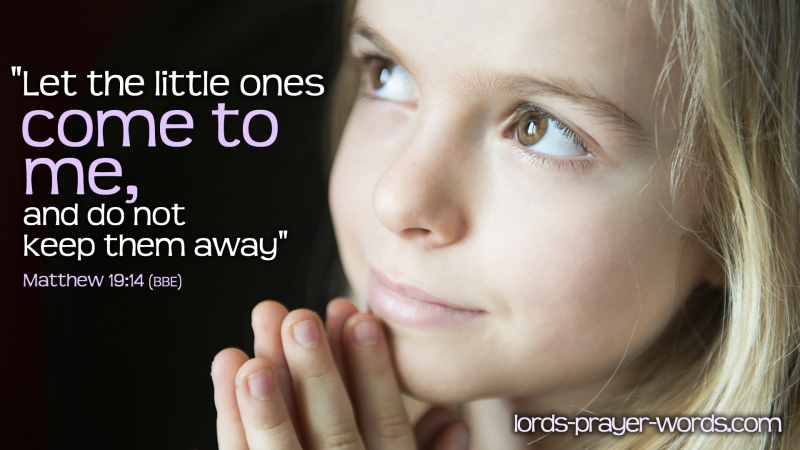 discover prayers for children to say here



A family that prays together stays together.
anon.
a night time prayer for a child
a prayer suitable for a child when feeling anxious, troubled or sad
Dear God,
I've felt a bit sad today.
Sometimes people say things that upset me.
Sometimes I feel lonely at school.
Sometimes I feel misunderstood by my mum and dad.
Sometimes my feelings are all mixed up inside.
Please make me feel better.
Please make me sleep with good dreams.
Please make a happier day tomorrow.
Amen.
(a modern prayer from www.lords-prayer-words.com)