Prayer to Calm Anxiety
This page gathers together a number of uplifting and encouraging prayers to use when you are beset with worry, with a heartfelt prayer to calm anxiety, and a traditional Anglican prayer for quite confidence. There is also a peace blessing, and a beautiful short film to watch for receiving peace of mind when faced with a challenging event or life circumstance. May you know God's reassuring presence as you come before Him now.
Prayer to calm anxiety
(a prayer to receive God's peace during a stressful situation)
Dear Lord,
I confess I wake with a worried heart, I carry anxious thoughts which wind round and round my mind each day, and I lay down to sleep with these concerns all about me.
I need you, Lord lead me into new peace. I give you these burdens, these cares, these sorrows. I lay them at your feet. I ask that you might take them from me, that I would know that you are Lord over all these things. There is nothing I need hide from you and there is nothing that you would have me hold.
Father, I choose to do this each morning, each day and each evening, knowing that when I am weak all is well, because your strength is made perfect in my weakness. Thank you for your peace that resides in my soul now.
In you I trust.
Amen.
(a prayer to help with anxiety from www.lords-prayer-words.com)
A beautiful short video with a prayer for receiving peace of mind:-
An uplifting blessing for receiving the peace of God in your heart:-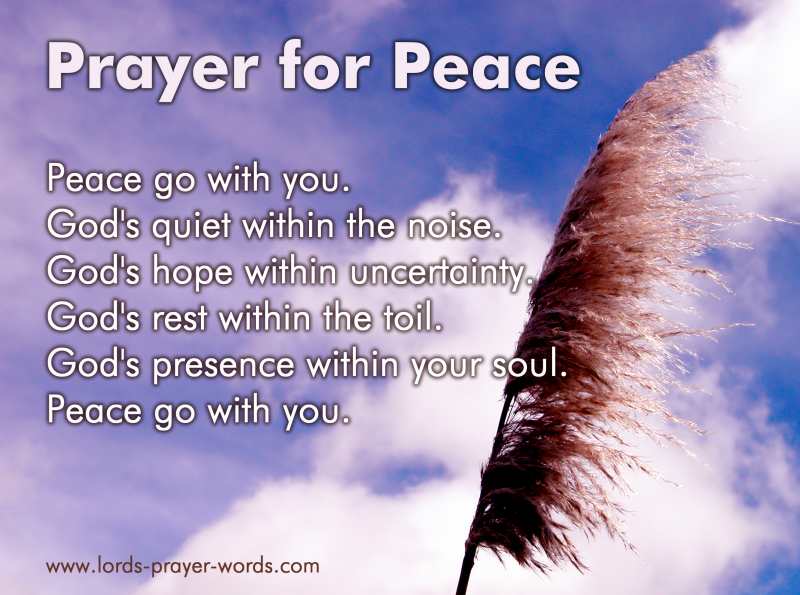 Prayer for Inner Peace
O God
I focus on Your resurrection love
Like a soft bed of grace,
I choose to lie down here.
I feel the peace
You have sown into my heart,
I choose to linger here.
I drink in Your eternal love
Thank you I am clothed forgiveness.
I choose always, to live here.
Amen.
(a prayer for calm from www.lords-prayer-words.com