Sunday School Prayers
Gathered together on this page are a collection of prayers suitable for children to say in sunday school class. Further down there is a closing prayer for ending your lesson with, an opening prayer that reflects on some of the activities you maybe about to do with your children, and a "thank you" prayer that you can say with toddlers.
Sunday school prayer
Dear God,
This church is a family.
Help us to learn together
To worship together
To share together
To play together
To pray together
To come together
And to reach out to everyone with family love!
Amen.
(a short sunday school prayer for children to say from www.lords-prayer-words.com)
• read more prayers for preschool children here.
Short Closing Prayer
(for the end of a sunday school class)
Dear Lord,
Thank you that you promise us
That when two or more come together in Your name
You are with us.
Thank you Lord that you have been with us throughout this lesson
And that you are with us right now.
Inspire us as we leave this place
To love and serve You always.
In the name of Jesus.
Amen.
(a short prayer for the end of a lesson from www.lords-prayer-words.com)
A thank you prayer to God for young children to say
(a prayer suitable to say with toddlers)
Dear God,
You made a brilliant world.
Blue skies and fluffy clouds.
Warm sun and night time stars.
Flying birds and swimming fish.
Tall mountains and deep sea.
Kind grandmas and fun granddads.
Funny brothers and caring sisters.
Lovely mummies and fantastic daddies
And wonderful me!
Thank you!


(a modern prayer from www.lords-prayer-words.com)
visit this page
for more classroom prayers, with five tips for engaging children in prayer.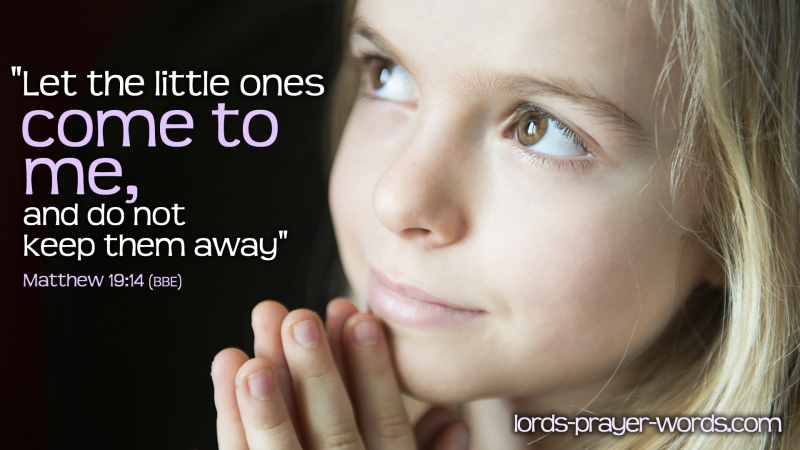 discover more prayers for children to say here



Start children off on the way they should go, and even when they are old they will not turn from it.
Proverbs 22:6, (NIV)
a prayer suitable for younger children
Dear Lord Jesus,
We are excited to learn more about you, to read the bible and hear stories. Thank you that we can play games together. Thank you that we can create and make things that remind us of you.
Amen.
(a children's prayer from www.lords-prayer-words.com)