Opening Prayer for a Wedding Service
Lord God Almighty,
Creator of the heavens and earth.
Thank you for the gift of marriage
For all the joy and love that it brings us.
We thank you for
N.
(bride) and
N.
(groom).
Thank you that you have brought them together for this special day,
And that you hold them safely in Your hands.
We pray that you would richly bless them as they exchange their vows and their wedding rings,
And from this day forward they would walk hand in hand into everything that you have destined them to be.
We give our hearts and lives to You now in adoration,
And welcome Your Holy Spirit amongst us.
Amen.
(a opening prayer for a marriage ceremony from www.lords-prayer-words.com)
Irish Blessing
("May there always be work for your hands to do")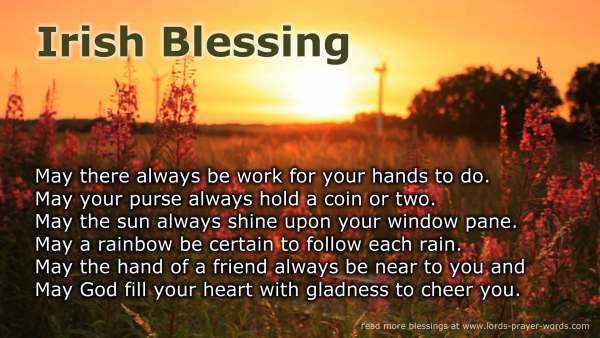 Traditional Wedding Prayer
(Episcopal wedding prayer for after the exchange of vows & rings)
Eternal God, creator and preserver of all life, author of salvation, and giver of all grace:
Look with favor upon the world you have made, and for which your Son gave his life,
and especially upon this man and this woman whom you make one flesh in Holy Matrimony.
Amen
.
Give them wisdom and devotion in the ordering of their common life,
that each may be to the other a strength in need, a counselor in perplexity,
a comfort in sorrow,
and a companion in joy.
Amen
.
(Source: 1979 Book of Common Prayer, Protestant Episcopal Church in the USA)
Wedding Benediction Prayer
God the Father, God the Son, God the Holy Spirit, bless, preserve, and keep you;
the Lord mercifully with his favor look upon you,
and fill you with all spiritual benediction and grace;
that you may faithfully live together in this life,
and in the age to come have life everlasting.
Amen.
(Source: 1979 Book of Common Prayer, Protestant Episcopal Church in the USA)
Wedding Dinner Prayers
Here are two Celtic blessings suitable as marriage reception prayers:-

May there always be work for your hands to do.
May your purse always hold a coin or two.
May the sun always shine upon your window pane.
May a rainbow be certain to follow each rain.
May the hand of a friend always be near to you and
May God fill your heart with gladness to cheer you.


May the road rise up to meet you

May the road rise up to meet you.
May the wind be always at your back.
May the sun shine warm upon your face;
the rains fall soft upon your fields
and until we meet again,
may God hold you in the palm of His hand.

This last celtic blessing can be used informally at the reception, or as a closing blessing for the wedding service. Below is a song version of the prayer from www.prayerscapes.com, with a mp3 of the song and score/lyrics pdfs available by clicking here.
Happy Is The Bride That Rain Falls On
(A traditional Irish Blessing)
Happy is the bride that rain falls on
May your mornings bring joy and your evenings bring peace.
May your troubles grow few as your blessings increase.
May the saddest day of your future
Be no worse than the happiest day of your past.
May your hands be forever clasped in friendship
And your hearts joined forever in love.
Your lives are very special,
God has touched you in many ways.
May his blessings rest upon you
And fill all your coming days.
We swear by peace and love to stand,
Heart to heart and hand to hand.
Hark, O Spirit, and hear us now,
Confirming this our Sacred Vow.
Popular Wedding Readings
Ecclesiastes 4:12 (NIV)
This verse is often used to illustrate how much stronger a marriage is when God (the third cord) is in the centre of a marriage:-

"Though one may be overpowered, two can defend themselves. A cord of three strands is not quickly broken."


1 Corinthians 13 (NHEB)
The Apostle Paul's famous hymn to love. A popular choice for wedding ceremonies:-

"(1) If I speak with the languages of men and of angels, but do not have love, I have become sounding brass, or a clanging cymbal. (2) If I have the gift of prophecy, and know all mysteries and all knowledge; and if I have all faith, so as to remove mountains, but do not have love, I am nothing. (3) If I dole out all my goods to feed the poor, and if I surrender my body so that I may boast, but do not have love, it profits me nothing. (4) Love is patient and is kind; love does not envy. Love does not brag, is not proud, (5) does not behave itself inappropriately, does not seek its own way, is not irritable, does not keep a record of wrongs; (6) does not rejoice in unrighteousness, but rejoices with the truth; 7 bears all things, believes all things, hopes all things, endures all things. (8) Love never fails. But where there are prophecies, they will be done away with. Where there are various languages, they will cease. Where there is knowledge, it will be done away with. (9) For we know in part, and we prophesy in part; (10) but when that which is complete has come, then that which is partial will be done away with. (11) When I was a child, I spoke as a child, I felt as a child, I thought as a child. Now that I have become a man, I have put away childish things. (12) For now we see in a mirror, dimly, but then face to face. Now I know in part, but then I will know fully, even as I was also fully known. (13) But now faith, hope, and love remain."