Prayer of St Richard


Thanks be to you, our Lord Jesus Christ,
for all the benefits which you have given us,
for all the pains and insults which you have borne for us.
Most merciful Redeemer, Friend and Brother,
may we know you more clearly,
love you more dearly,
and follow you more nearly,
day by day.
Amen.

St Richard (1197-1253) was born in Droitwich (Worcestershire, England) and raised as an orphan child of a gentry family. If legend is to be believed, it is said that his older brother offered him his farming estate, which he declined in favour of a life devoted to study and church service. St Richard served as Bishop of Chichester from 1244 to 1253. A large statute in memory of this great servant of God stands outside the cathedral, with his prayer inscribed upon it. The words are said to be his last utterances before dying.
Godspell
Over seven hundred years later, the words were to become the basis for "Day By Day", from the musical "Godspell". The show was first performed off-broadway in 1971 and has since gone on to be staged by many touring companies across the world and have several cast recordings. The show also became a film in 1973, set in modern day New York. The composer and lyricist behind the work, Stephen Schwartz, is one of only two musical composers to have three shows run longer than 1,500 performances on Broadway, as of 2007 (the other being Jerry Herman).
Prayer of St Richard
a printable image of this beautiful prayer:-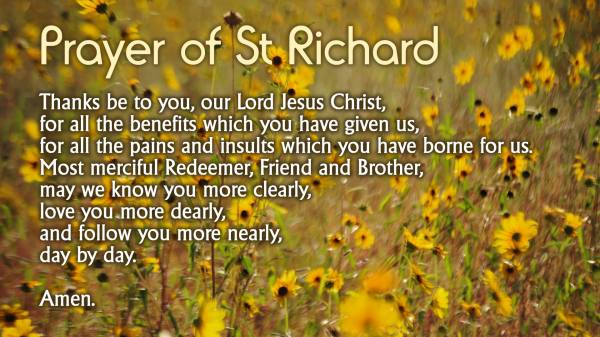 That is the secret of true prayer, of true power in prayer, of real, living, face to face fellowship with God, and of power for service. there is no true, deep conversion, no true, deep holiness, no clothing with the Holy Spirit and with power, no abiding peace or joy, without being daily alone with God.
(Andrew Murray)