Prayer for Depression
This page has three prayers to help you if you are currently feeling depressed or anxious, or have a friend who is suffering from depression. The first prayer is a heart cry to God, asking for change to come, and for His life to break in. There is also a prayer for those who are in a desperate place, and asks for the Lord's freedom, light and peace, and an inspiring prayer for hope and strength to come to those who are suffering with nervousness or anxiety.
Father, I cry out to You
Lift my eyes to see hope rise.
I cry out to You
Change the colour of my thoughts to a rainbow day.
I cry out to You
Blow away the dark clouds to bring Your light.
I cry out to You
Break into my heavy heart and breathe Your life into me.
That in the morning I may rise to a rainbow day,
Full of Your light and breathing Your life.
Lord, I cry out to You.
Amen.
(a short prayer to help with depression from www.lords-prayer-words.com)
A short prayer to help with stress and sudden panic attacks:-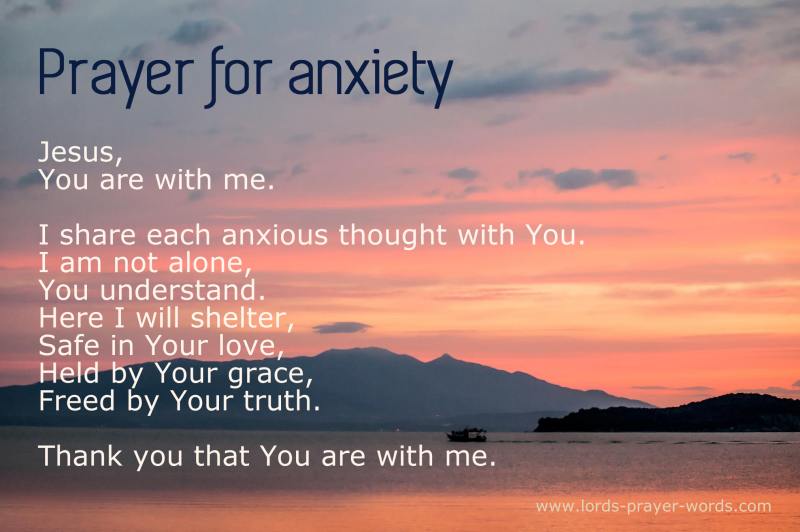 Julie Palmer from Prayerscapes leads us in an uplifting prayer for those struggling with how they are feeling at the moment:
A prayer for when life is desperate
(for those in despair or depression)
I feel lost.
Find me Lord, pull back the wreckage of my life so that I can breathe again.
I feel abandoned.
Embrace me Lord, cover my wounds with your healing love so that I might stand restored.
I feel trapped.
Cut the chains Lord, release me from the weights that drag me down. Come bring your freedom and hope.
I am desperate, yet I seek you God, the one who conquered the darkness,
The one who rose from death, the one who said, "follow me"!
I will follow the brightness of your love.
Even when it is all but a distant glimmer
I will fix my eyes open it.
I feel lost, yet I am found in that light.
I feel abandoned, yet you are besides me.
I feel trapped, yet you call me to freedom.
I feel desperate, yet you lead me to peace.
I draw near to you Lord Jesus.
(a prayer for help from www.lords-prayer-words.com)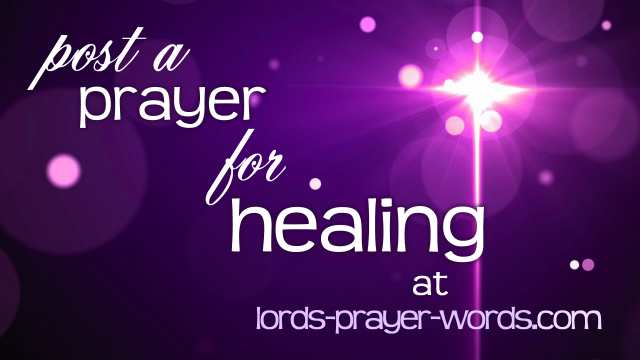 A short prayer for hope and strength from God for those in a dark or difficult place.
Here are the words to the prayer in this film:-
Prayer for Hope and Strength
(for those in despair or in great need)
Almighty God,
You reach into the darkness with hope, truth and light. Stretch out your strong hand in this situation, hold and rescue those who have suffered. Let your almighty love move mountains, cross seas and breathe life into the darkest places.
Light that redeems.
Light that restores.
Light that heals.
Light that protects.
Light that saves.
There is nothing higher, stronger or greater than your love.
We trust in you.
(a modern prayer for hope from www.lords-prayer-words.com)


Happiness often sneaks in through a door you didn't know you left open.
John Barrymore (1882-1942)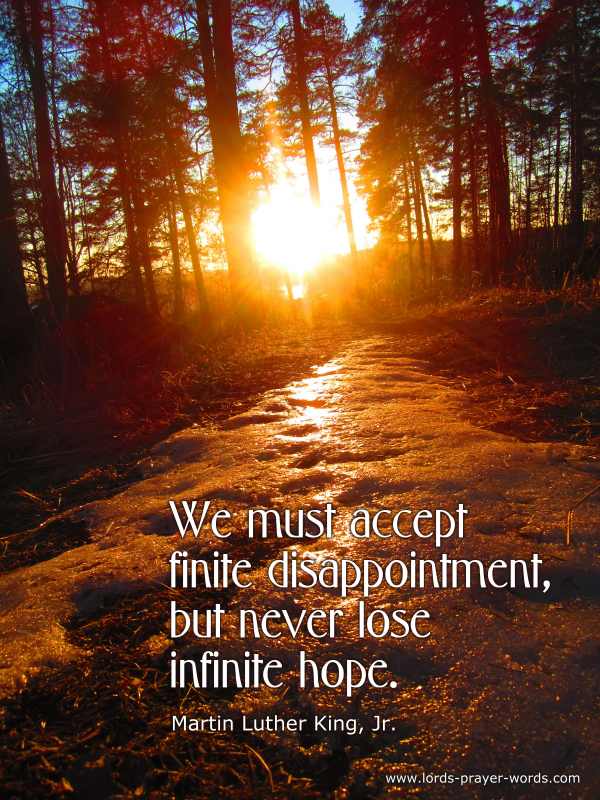 A Meditation on Psalm 42:1-8 (NHEB)
A few things to notice as you meditate on this psalm:-
•
The writer likens his thirst for God as a deer that pants for water. (v.1)
•
The psalmist is in despair (v.5, 6). His tears have been his food through the day and night (v.3)
•
Regardless of how the psalmist is feeling he makes a decision to praise God. He addresses his soul and tells it to hope in God (v.5). He recounts the way God has been with him in the past (v6), that God is His saviour (v.5) and that God is with him now. He will know God's loving kindness in the day, and hear His song over him in the night time (v.8).
Psalm 42:1-8
(1) As the deer pants for the water brooks, so my soul pants after you, God. (2) My soul thirsts for God, for the living God. When shall I come and appear before God? (3) My tears have been my food day and night, while they continually ask me, "Where is your God?" (4) These things I remember, and pour out my soul within me, how I used to go with the crowd, and led them to the house of God, with the voice of joy and praise, a multitude keeping a holy day. (5) Why are you in despair, my soul? Why are you disturbed within me? Hope in God! For I shall still praise him for the saving help of his presence. (6) My God, my soul is in despair within me. Therefore I remember you from the land of the Jordan, the heights of Hermon, from the hill Mizar. (7) Deep calls to deep at the noise of your waterfalls. All your waves and your billows have swept over me. 8 The LORD will command his loving kindness in the daytime. In the night his song shall be with me: a prayer to the God of my life.
Psalm 42:1-8 (NHEB)