Prayer for a friend
Lord, I give you (name) and thank you for them.
I thank you for everything that they are
And for all their gifts and talents.
I thank you for the many things that they have given to others
And for all the kindness that they have shown me.
Lord, at the beginning of time You breathed Your life into creation
May you breathe Your life into them now
So that each step they take is filled with Your faith
Each thought they think is filled with Your hope
and each moment they live is filled with Your love.
May they fully know Your life
And fully live in Your love
This day and every day
Amen
(a modern prayer suitable for friends, family members and loved ones, from www.lords-prayer-words.com)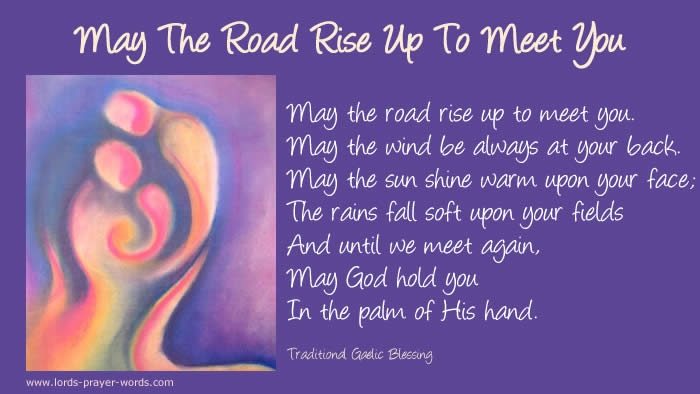 read more inspiring Irish blessing, including "May there always be work for your hands to do"
at this page.
Good night prayer for friends
Dear Father,
I treasure my wonderful friend so much. Thank you for their presence in my life.
I ask that you would watch over them and lead them into hope and blessing.
I trust that you will protect and hold them when life is hard.
Lord, help me to be a good friend to them.
Amen.
(a short bedtime petition for friends or loved ones, from www.lords-prayer-words.com)
A short blessing prayer suitable for sending to a friend via social media:-
The prayers of the Apostle Paul
The apostle Paul frequently prays in his letters for those he is writes to. Here are two prayers of Paul which you may find useful as you pray for your friends and loved ones:-



Paul's prayer for the Colossians "For this cause, we also, since the day we heard this, don't cease praying and making requests for you, that you may be filled with the knowledge of his will in all spiritual wisdom and understanding, that you may walk worthily of the Lord, to please him in all respects, bearing fruit in every good work, and increasing in the knowledge of God; strengthened with all power, according to the might of his glory, for all endurance and perseverance with joy"

(Colossians 1:9-15, WEB)

A prayer for the Ephesians

For this cause I go down on my knees before the Father,

From whom every family in heaven and on earth is named,

That in the wealth of his glory he would make you strong with power through his Spirit in your hearts;

So that Christ may have his place in your hearts through faith; and that you, being rooted and based in love,

May have strength to see with all the saints how wide and long and high and deep it is, And to have knowledge of the love of Christ which is outside all knowledge, so that you may be made complete as God himself is complete. Now to him who is able to do in full measure more than all our desires or thoughts, through the power which is working in us, To him be the glory in the church and in Christ Jesus to all generations for ever and ever. So be it.

(Ephesians 3:14-21 BBE)
The example of David and Jonathan
One of the most notable examples of friendship in the bible is that of David and Jonathan. David (son of Jesse) and Jonathan (son of Saul) were potential rival heirs to the throne, yet Jonathan loved David "as himself" (1 Samuel 18:3, NIV). He made a covenant agreement with David and as a symbol of the bond between them gave David his robe, tunic, sword, bow and belt. When we come to pray for our friends, Jonathan is a useful role model – somebody who put their friend first, above and beyond their own self-interests. When we take time to pray for somebody, we forget about ourselves and consciously think about the best possible future for them. Just as Jonathan loved David, we pray for them because we love them and care for them.
The example of Christ in friendship and prayer
"This is my commandment, that you love one another, even as I have loved you. Greater love has no one than this, that someone lay down his life for his friends. You are my friends, if you do whatever I command you. No longer do I call you servants, for the servant doesn't know what his lord does. But I have called you friends, for everything that I heard from my Father, I have made known to you".
John 15:12-15 (WEB)
Later in the Gospel of John, Jesus prays for those who will come to believe in Him through the work of the first disciples. Christ prays that there will be unity between them just as He and the Father are one (
John 17:20-23
) and that they will live with Him and see His glory (
John 17:24
). The writer of the book of Hebrews declares that Christ continues to pray for these believers:-
"Therefore he is able to save completely those who come to God through him, because he always lives to intercede for them".
Hebrews 7:25 (NIV)