Prayer for Guidance
Lord, you promised that when I seek You with all my heart, I will find You.
I seek only after You.
Still my troubled heart.
Calm my wayward mind.
I seek only after You.
I'm never going to be able to figure this out on my own,
And right now I'm leaning heavily on You.
I seek only after You.
I give you all the anxieties and fears I feel inside
I release them all to You
I seek only after You.
I open up my life
So that it becomes like an open book before You
May You write in it Your words of inspiration and direction.
Still my troubled heart.
Calm my wayward mind.
I seek only after You.
I await Your voice.
(a modern prayer for guidance from www.lords-prayer-words.com)
Prayer for Strength and Guidance
O Lord,
I give you my worries and concerns and I ask for your guidance. You see it all, the outer circumstances, the inner turmoil. I know that you understand my life, that sometimes my heart weighs heavy with trouble. Right now I lay all these things before you. I breathe in, safe in the knowledge that I am held by grace. I breathe out, knowing that I am held secure in your arms. And I wait on you. For you are all truth, you are overflowing love, you are a beacon of hope and a fortress of faith.
Lord, I choose to be attentive to your voice. May I be alert to your Spirit's guiding as I journey onwards with you.
I love you Father. Amen.
(a prayer for direction and strength from www.lords-prayer-words.com)
The Serenity Prayer
The famous prayer for God's wisdom in a situation:-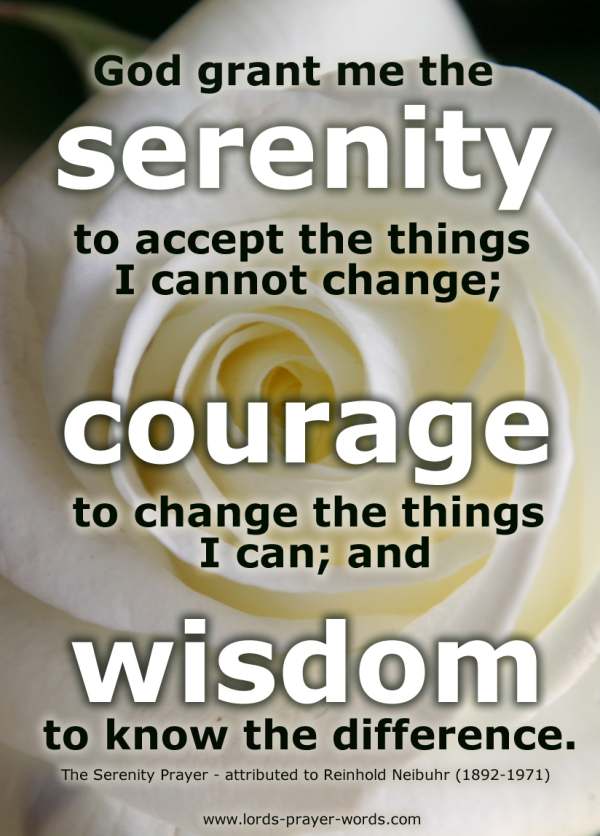 Prayer for Guidance in Decision Making
Father God,
I draw near to you as I make this decision.
Lord, I confess the anxieties, fears and insecurities which arise within me.
I draw nearer to your heart for this world and nearer to your heart for me.
Lord, guide my thoughts to be clear and free as I consider the options. May I know your wisdom in this process.
I draw into your kingdom promises, and I breathe in your hope.
Lord, bring clarity into this situation. Please bless me with renewed vision and a clear calling from you.
I draw into your loving care and to your presence, for here I know that no matter what my decision, you are always with me, I am not alone.
Thankyou,
Amen.
(prayer from www.lords-prayer-words.com)
Prayer for Guidance and Protection
Father,
There is a light that guides us, small and true and bright.
Jesus right besides us in the morning, noon and night.
He walks upon each place we tread in sorrow or in joy.
And goes before and walks behind, to catch us if we fall.
His presence is so gentle, but if we look we'll see
So many ways he sprinkles grace into the lives of you and me.
Encourages forgiveness, mends our brokenhearts.
Helps us choose to do things right, and walk upon his path.
His hope is on our shoulders, lifting us each day.
His truth breathes deep within us inspiring us to pray.
His love we wear just like a cloak of sonship and praise.
His everlasting promises are there for us always.
And even when the world goes dark and we're lost, cold or afraid.
This little light inside us keeps us warm and close and safe.
It seems Lord such a miracle that you should walk with me.
I choose each day to talk with you,
And hear you speak with me.
Amen.
(a modern prayer for guidance from www.lords-prayer-words.com)
Julie Palmer from Prayerscapes leads us in an inspirational prayer for those who are about to make an important decision and need God's direction in life:-
Prayer for Guidance and Wisdom
(here is the prayer in the above film for personal meditation and reflection)
Jesus go before me,
Your presence ahead of my thoughts.
Give me clarity of vision,
Greater insight
Clearer sight.
Jesus be beside me,
Your friendship informing my decisions.
Influencing my every move
In rhythm
In step.
Jesus be behind me,
Your wing of protection encircling,
Guarding my mind,
Covering and keeping
Holding me secure.
Jesus be beneath me
Your legacy, spurring me on.
Inspiring my dreams
Envisioning
Leading.
Jesus be above me
Your promises to breathe in
Filling my heart with your truth
With eternities
Great light.
Jesus be within me.
Your Spirit flowing through mine.
A life-giving river of grace
Ever present
And cherished.
(a prayer from www.lords-prayer-words.com)
Prayer for Guidance
An inspiring image to meditate on...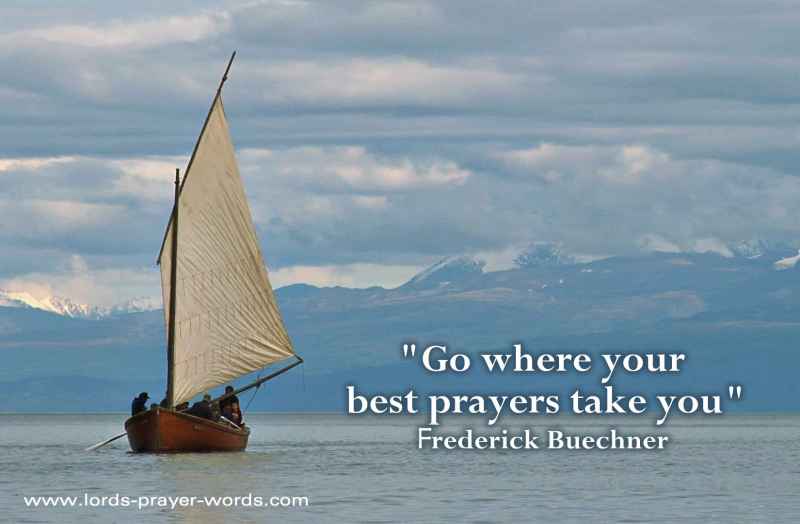 Lord,
May your words be like a lamp that lights my way.
May your love be like a compass that gives me direction.
May your truth be like a signpost bringing clarity.
May your peace be like a measure that guides my decisions.
May your hope be like a flag that declares I walk with you.
May your words be in my mind,
Your love guide my feet,
Your truth be a sign,
Your peace be a measure,
And your hope be a flag,
As I walk close to you at this time.
Amen.
(a prayer for clarity from www.lords-prayer-words.com)
Prayer for guidance in a relationship
Lord Jesus,
We give you our relationship that at the moment feels lost. Thank you that your grace can flow into the driest of places and bring life, that it can smooth over the rocks of hurt and wash away the debris of sin. Lord, we ask for your incredible redemptive love to cover, keep, heal and renew our love for one another. Thank you that you are with us now. Come direct us in the ways we should go as we trust in You.
Amen.
(a prayer for a healthy relationship from www.lords-prayer-words.com)
Prayer for Guidance at Work
O Lord,
Open my eyes to see where you would lead me.
Awaken my ears that I would hear your voice guiding me.
Inspire my mind that I may comprehend your love for me.
Soften my heart that I would offer grace to those I meet.
Watch my feet that I would tread upon your kingdom paths.
Guard my heart from selfishness that I would give freely.
Inspire my words that I may speak of hope and healing.
O Lord, I follow you.
Amen.
(a prayer for life at work from www.lords-prayer-words.com)
Catholic Prayer for Guidance
O creator past all telling,
you have appointed from the treasures of your wisdom
the hierarchies of angels,
disposing them in wondrous order
above the bright heavens,
and have so beautifully set out all parts of the universe.
You we call the true fount of wisdom
and the noble origin of all things.
Be pleased to shed
on the darkness of mind in which I was born,
The twofold beam of your light
and warmth to dispel my ignorance and sin.
You make eloquent the tongues of children.
Then instruct my speech
and touch my lips with graciousness.
Make me keen to understand, quick to learn,
able to remember;
make me delicate to interpret and ready to speak.
Guide my going in and going forward,
lead home my going forth.
You are true God and true man,
and live for ever and ever.
St Thomas Aquinas (1225-1274)