Sunday Prayer
For Christians, Sunday is a special day in the week, as it marks the day that Christ rose victorious from the grave! The first prayer on this page celebrates this wonderful news. Further down there are also morning prayers, a short prayer of thanks, and an inspiring film you can watch which welcomes the Lord into your new day:-
The First Day
A prayer for Sunday morning
Today we celebrate Your magnificent splendour
For by Your hand You placed time in motion
From the first day of creation until this day
Your creative wonders have filled the universe
Today we celebrate Your mighty power
For by Your hand you raised Christ from the grave
From resurrection Sunday until this day
Your love has given life to all mankind
Father we thank you for today
We give this special day over to You
May we rest in Your presence
Bathe in Your goodness
And celebrate Your eternal life
This day and always
Amen
(A modern prayer for Sundays from www.lords-prayer-words.com)

• click here for prayers for the morning. A selection of contemporary prayers for the start of your day.
A Sunday Blessing
a beautiful prayer suitable for sending to a friend or cherished one:-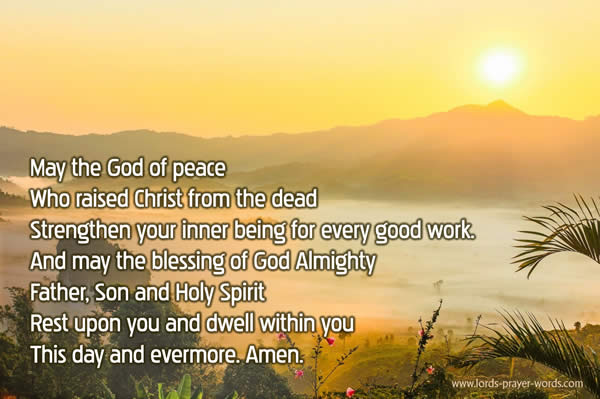 Morning Prayer
The world turns,
The sun rises,
The birds sing,
The dawn breaks.
The beauty of your creation,
Unfolds afresh, bathed in light!
I give you my life,
I notice my breath,
I appreciate the comfort of nourishment.
I soak up the light of a new day
Full of possibility and joy.
Thank you Lord!
(an early morning prayer from www.lords-prayer-words.com)
Prayer of Thanks
a short prayer of thanks and gratitude to God:-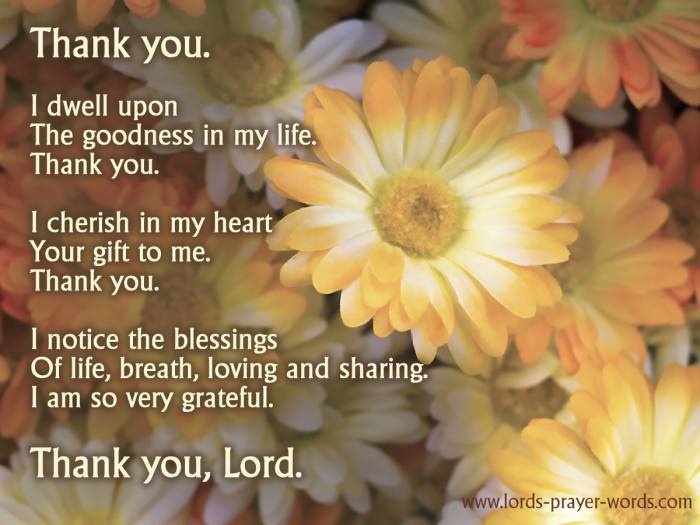 In the silence of the heart God speaks. If you face God in prayer and silence, God will speak to you.
Mother Teresa (1910-1997)
A short inspirational prayer film with images of day breaking across beautiful meadows:-
A Traditional Episcopal Prayer
O God our King,
by the resurrection of your Son Jesus Christ on the first day of the week,
you conquered sin,
put death to flight,
and gave us the hope of everlasting life:
Redeem all our days by this victory;
forgive our sins,
banish our fears,
make us bold to praise you and to do your will;
and steel us to wait for the consummation of your kingdom on the last great Day;
through the same Jesus Christ our Lord.
Amen.
(source: Book of Common Prayer, 1979 version, Protestant Episcopal Church in the USA).