Prayer for safety & protection
(a prayer blessing suitable to give to a friend or loved one)
May the three enfold you
Father, Son and Holy Spirit
Hold you safe and hold you strong
May the three encompass you
Father, Son and Holy Spirit
Encircle your life each day and night
May the three protect you
Father, Son and Holy Spirit
Guard your door and keep each gate
May the three watch over you
Father, Son and Holy Spirit
Still your heart and calm all fear
(a modern prayer for protection from www.lords-prayer-words.com)
A short inspiring film featuring the words from the above prayer, asking God to come and guard the believer with His peace:-
Prayer for my family
Lord be besides us, all every day
Guiding and leading us gently always.
Lord be above us, help us to see
The hope of the future, of all we could be.
Lord be beneath us, carry us when
We're too shattered or tired to really have strength.
Lord be ahead of us, smoothing our paths
Protecting and blessing the places we pass.
Lord be behind us, healing our wounds,
Forgiving our mistakes and making us new.
Jesus, be within us, this family is yours
Now and forever, you are our Lord.
(a family prayer from www.lords-prayer-words.com)
Short night prayer for protection
I lay down to sleep
Cradled in your loving hands.
I breathe out all my cares
I breathe in your grace.
I am safe in your care,
Sheltered, held, carried.
I lay down to sleep.
(a night prayer from www.lords-prayer-words.com)
Celtic Prayer
Prayer of protection for the home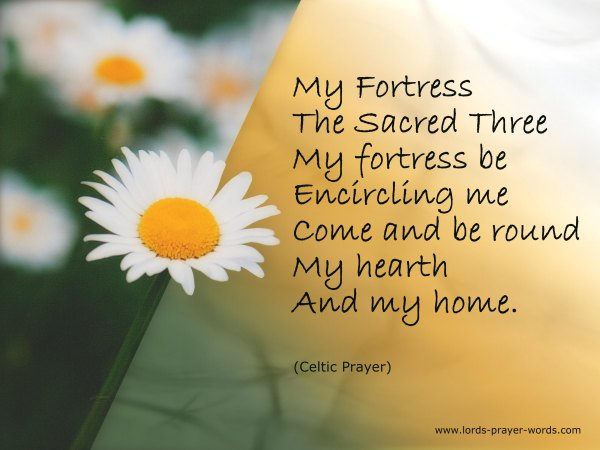 Short prayer for protection against evil
Living Lord,
I am yours.
I wear the helmet of salvation and hope.
I carry the shield of faith and your word.
I hold the sword of the spirit.
I buckle the belt of truth around my waist.
I put on the breastplate of righteousness
And I walk with the boots of readiness and peace.
I am yours.
(a declaration prayer from www.lords-prayer-words.com)