Graduation Invocation Prayer
(suitable for opening the ceremony)

Dear God,

Today we join with heaven as we celebrate and give thanks for every student here. Thank you that each one is unique and brimming with potential.
Thank you for leading them in their learning, for keeping them safe as they studied, and for watching over them in their final exams.
We pray that they may all feel proud this day and enjoy sharing their achievements with family and friends. May today be a memory that burns bright within them as they embark on life's great adventure.

Amen.


(a prayer for a graduation service from www.lords-prayer-words.com)
High School Graduation Prayer
Father, we thank you so much for our time here together
For all the friends we have made
For all the days of laughter and fun
And for all the times of great discovery and learning.
We thank You for all who have given of their energy and skill
So that we can graduate today.
Our teachers and mentors
Our family and loved ones
We thank You for them and give them all to You in prayer.
As this chapter on our life closes, so a new one begins.
We present ourselves like an open book before You.
Come and scribe Your words of life into our lives -
Fill our minds with Your thoughts
Fill our bodies with Your strength
Fill our hearts with Your dreams
That we might eternally love and serve You
This day and every day.
We ask all this in the glorious name of Jesus
Who lives and reigns with You and the Holy Spirit
World without end.
Amen.
(a modern prayer for a graduation ceremony from www.lords-prayer-words.com)
Graduation Prayer
a printable opening prayer suitable for a graduation program.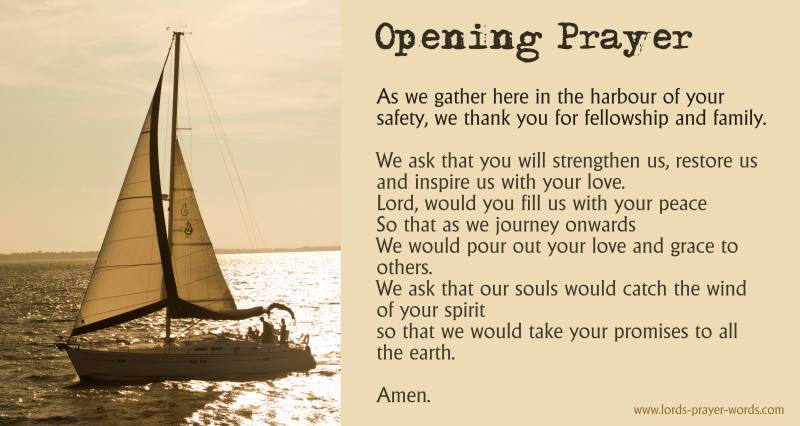 Father,
I have knowledge, so will You show me now,
How to use it wisely and find a way somehow
To make the world I live in a little better place,
And make life with its problems a little bit easier to face.
Grant me faith and courage and put purpose in my days,
And show me how to serve Thee in effective ways.
So my education, my knowledge and my skill
May find their true fulfillment as I learn to do Thy will.
And may I ever be aware in everything I do,
That knowledge comes from learning, and wisdom comes from You.

Amen.

O Eternal God, bless all schools, colleges, and universities [and especially __________],
that they may be lively centers for
sound learning, new discovery, and the pursuit of wisdom;
and grant that those who teach and those who learn may find you to be the source of all truth;
through Jesus Christ our Lord.
Amen.
source: Prayer for Schools and Colleges, Book of Common Prayer, 1979 version, Protestant Episcopal Church in the USA.
Bible verse for a graduation service:-
Show me your ways, LORD,
teach me your paths.
Guide me in your truth and teach me,
for you are God my Savior,
and my hope is in you all day long.
Psalm 25:4-5 (NIV)
May The Lord Bless You

(A Judeo-Christian Blessing suitable for closing a graduation ceremony with)
May the Lord bless you and keep you.
May the Lord make his face to shine upon you,
and be gracious to you.
May the Lord lift up his countenance upon you,
and give you peace.