Go in Peace
(priest or leader of the service)
Go in peace to love and serve the Lord,
(congregation)
in the name of Christ. Amen.
What does it mean to "go in peace"?
In Jewish understanding, peace ("shalom") is not a warm fuzzy sensation about feeling good inside. It has to do with things being in the right order - about relationships restored, communities healed of divisions, about society where justice flows like a river, and "righteousness like a river that never goes dry". So to "go in peace" is to carry the presence of Christ into the world, bringing God's transforming touch where friendships are broken, injustice is rife, and prejudice rules. Here we may pray and enact the prayer of St Francis, as ambassadors of Christ in a lost and hurting world.
Our response: we are to go in the name of Christ. We are renewed by our time meeting with the Lord, and are free to serve God. The things that may have controlled our lives before the mass or service are things of the past. We walk out of the assembly with God's strength and power, free to live in God's world in God's way, to love and serve the Lord with all our heart, mind and strength, and hence to fullfil God's greatest comandments:-
"'Love the Lord your God with all your heart and with all your soul and with all your mind.' This is the first and greatest commandment. And the second is like it: 'Love your neighbor as yourself'.
Matthew 22:37-38, (NIV)
Other popular benediction blessings:-
May the Lord Bless You
ancient Judeo-Christian blessing
May the Lord bless you and keep you.
May the Lord make his face to shine upon you,
and be gracious to you.
May the Lord lift up his countenance upon you,
and give you peace.
• click here for commentary on this famous prayer
An Ancient Celtic Blessing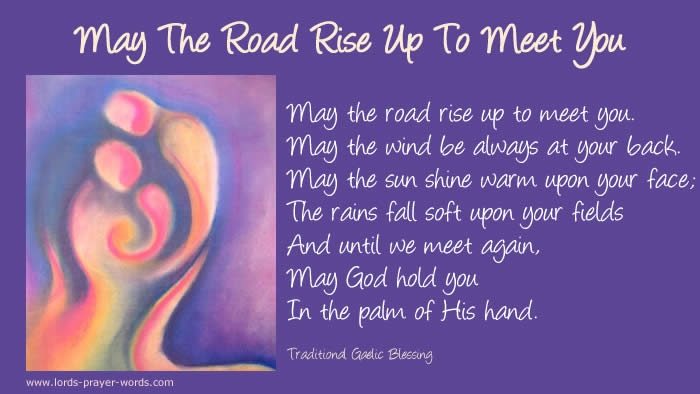 A Popular Methodist Blessing
The Grace Prayer
May the grace of our Lord Jesus Christ,
and the love of God,
and the fellowship of the Holy Spirit
be with us all,
now and evermore.
Amen.

follow this link
for more
benediction prayers
, including a wedding blessing and benediction prayers in the bible.