Prayers for Women
Featured below are several prayers suitable for a women's fellowship or group meetings. The first one is a short prayer for opening a day conference, bible study or retreat. After this there is a beautiful closing blessing, and an inspirational prayer, giving thanks for all the talents and abilities that women possess, and dedicating them to the Lord:-
Opening Prayer
(suitable for Women's fellowship, bible study or meeting)
We come together to give you honour and praise. We ask that you would help us to draw close to you. Please come and speak your words of wisdom into our lives.
Help us to embrace one another, our similarities, our differences, our concerns and our joys. We long for your touch on our lives, that we might be your hands and feet to the world. Inspire our hearts, heal our wounds, bring your peace into our worries and your hope into our disappointments.
Come Lord and weave your love into our fellowship together, that we may overflow with grace and allow your truth to light up our lives anew.
Amen.
(a short prayer for a women's meeting from www.lords-prayer-words.com)

Go where your best prayers take you
Frederick Buechner American writer and theologian, b.1926
An Beautiful Closing Prayer
"May The Road Rise Up To Meet You" is an ancient Irish blessing:-
You walk beside us
(An inspirational prayer for women)

Dear Lord,

You walk beside us, each moment of each day.
You know us by name, see each joy and sorrow.
You created within us a gentle capacity to love and nurture.
You gave us understanding and patience in a troubled world.
You laid upon us the responsibility to carry and care for new life.
You released us to run and dance, to sing and create.
You crafted in us sharp minds that are able to solve problems and see possibilities.
You desire each of us to live life to the full, embracing your love for us and extending grace to others.
You gave your life so that we could walk free to build your kingdom on earth as in heaven.

We lay our lives before you and trust in your unfailing love.

Guide us,
Heal us,
Touch us,

And lead us,
To reflect more and more of you life within our own.

Amen.
(a modern prayer for women from www.lords-prayer-words.com)
Family Prayer Blessing
A short prayer suitable for praying for loved ones in your family:-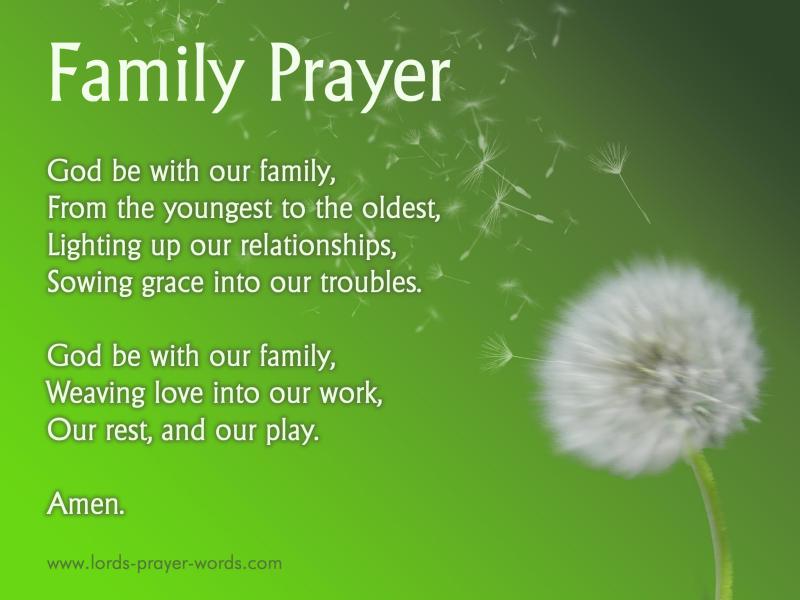 read a selection of Celtic, Catholic and contemporary
prayers for family life
, including some good ideas for praying together as a family.
A short (2 min) film suitable for opening a church gathering with such as a bible study or prayer meeting:-
Opening Prayer
Here are the words to prayer in the film above:-
As we gather here in the harbour of your safety
We thank you for fellowship and family.
We ask that you will strengthen us, restore us and inspire us with your love.
Lord, would you fill us with your peace
So that as we journey onwards
We would pour out your love and grace to others.
We ask that our souls would catch the wind of your spirit
so that we would take your promises to all the earth.
Amen.
(an opening prayer from www.lords-prayer-words.com)
follow this link
for a modern prayer blessing for a husband, including tips on how to pray for your partner.