Christmas Eve Prayer
On this page are three inspiring prayers appropriate for saying at family gatherings or for opening a Christmas Eve church service. The first prayer is a contemporary reflection on the coming of Christ into the world, the second is a simple request that we might ready for the coming of our Lord Jesus, and the final prayer is a short grace for blessing the Christmas Eve dinner meal with:-
Christmas Eve Prayer
Father God,
In a small animal shelter, two young newlyweds came to take refuge. In candlelight, laying upon straw, the promised one stirred within a nervous young mother. How we wonder that your Son, a piece of you sent from heaven could reside in such humble beginnings. And yet we engage with this picture, with the expectancy, with the hardship and with the wonder. This is the eve that held such promise, the eve that would be remembered forever, the eve that changed everything. We remember this moment now and continue to wonder at your amazing plans, at your unfailing love, and at your amazing grace.
Amen.
(a contemporary prayer for Christmas Eve from www.lords-prayer-words.com)
Christmas is the day that holds all time together.
Alexander Smith, Scottish Poet, 1829-1867
Purify our conscience, Almighty God, by your daily visitation,
that your Son Jesus Christ,
at his coming, may find in us a mansion prepared for himself;
who lives and reigns with you, in the unity of the Holy Spirit, one God, now and for ever.
Amen.
(a Fourth Sunday of Advent prayer from the Book of Common Prayer, 1979 version, Protestant Episcopal Church in the USA)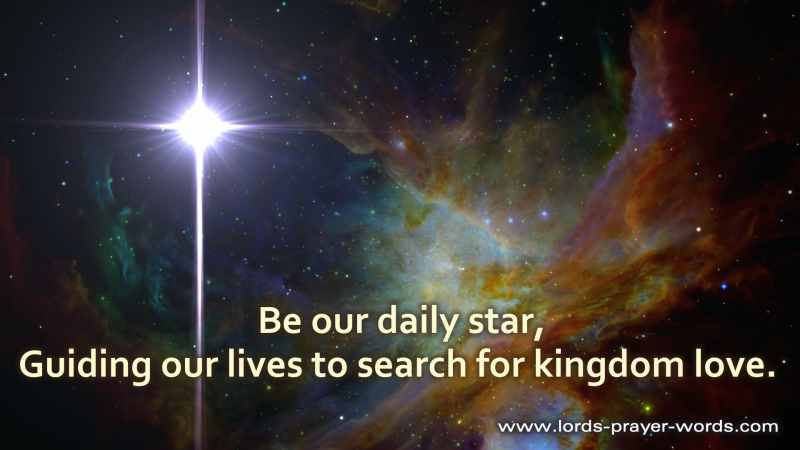 A short message suitable for sending to a loved one at Christmas time:-
This blessing film can be downloaded at
prayerscapes
Christmas Eve Dinner Prayer
As we enjoy this festive meal
May we remember to see your truth clearly
May we feel your love completely
May we give your grace freely
And may we taste the promise of heaven,
As we celebrate the birth of our Saviour.
Amen.
(a contemporary grace prayer for Christmas Eve meals from www.lords-prayer-words.com)