Retirement Prayer
This page features 4 blessings and prayers for a retirement service or party. There is an ancient Irish blessing, a prayer suitable for saying before the meal, and a modern personal prayer for the person retiring (ideal if you are planning a short leaving ceremony or looking for a message to write in a card). We begin with a prayer suitable for giving to someone in a retirement service:-
A prayer for a happy retirement
Dear Father God,
Thank you for the seasons of life, for the joy of childhood, the excitement of youth, and the stability of maturity. Thank you for the blessings that come with age, for all the happy memories to enjoy, for the wisdom that comes through experience, and for the freedom that is given with retirement.
Lord, we give thanks for the tremendous blessing that has come from the work of many years, and thank you that you still anoint and use us always, in all seasons. We pray that this would be a new beginning, may your hope arise, and your vision be the guide. May a new rhythm emerge, one that forms a beautiful balance between rest and engagement with life.
And now Lord, we ask for your blessing. May there be good health, joy in abundance and peace in heart and mind, from this day forwards and each day that follows.
In Jesus name,
Amen.
(a retirement prayer from www.lords-prayer-words.com)
A Retirement Prayer
(a prayer to say for a person who is about to retire)
Lord, here I stand with a new horizon ahead of me. I know I am entering a later phase of life, yet I feel so much the same inside.
Help me to seize each sunrise, and fully live each day. May I be guided by You, and walk into this new landscape with hope and confidence.
May I engage with the beauty of creation, and connect with the passions, hopes and dreams I had as when young.
My prayer is not to leave anything behind, but to walk forwards into all I can be, all I can enjoy, and all I can give.
To this new page
The next chapter of my life
- Shared with You.
Amen.
(a prayer for retirement from www.lords-prayer-words.com)
Retirement Blessing Prayer Poem
A beautiful ancient Irish blessing entitled "May The Road Rise Up To Meet You")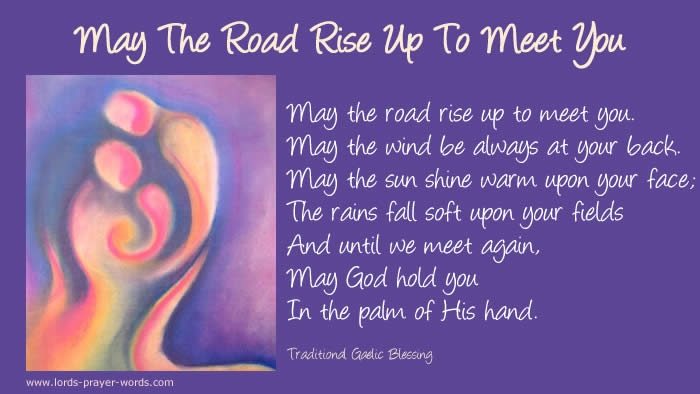 A short (3 minute) meditation asking for God's guidance and direction in life:-
Do not go where the path may lead, go instead where there is no path and leave a trail.
Ralph Waldo Emerson
Prayer Before the Meal
A short prayer suitable for saying grace at a retirement party:-
Thank you for Nourishment

Father, thank you for nourishment.
For the warmth of the sun and the refreshment of water.
For the miracle of the seed and the reaping of harvest.
For the wonder of taste and the blessing of food with loved ones.
Thank you, Lord.

Amen.