Thank You Prayers
Gathered together here are several uplifting prayers of gratitude and praise, with a short
thank you prayer for friends and family
, an inspiring
thanksgiving prayer
and a
thank you Jesus prayer
. There is also a fun grace before meals for children to say, the famous thank you prayer for everything by Ralph Emerson, and a prayer of appreciation to God for all the goodness that he has poured into our lives. May you be encouraged now as you give thanks to the Lord of all!
Thank you Jesus Prayer
Jesus, your presence in my life is so precious,
I fill my lungs with the breath of your life.
I declare your love endures through the darkness,
I fill my mind with the goodness you bring.
Your gift within my heart is so releasing,
I fill my voice with the sound of your name.
For you are my friend and Lord eternal,
I fill my soul with your everlasting grace.
(a prayer of thanks from www.lords-prayer-words.com)

King David's Prayer of Thanks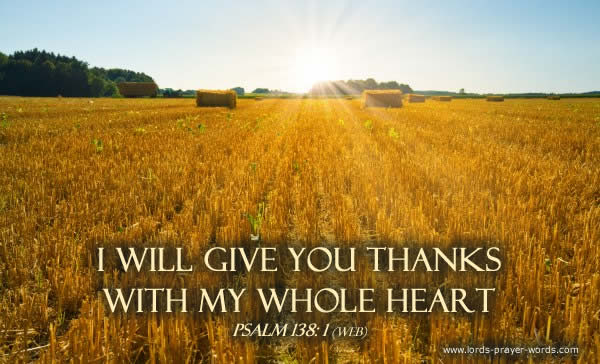 Thank You Prayer for Friends and Family
To be known, and yet loved is a blessing.
Thank you for all those who see me,
Who seek to understand, support and nurture me.
I am forever grateful to be able to come just as I am, in every season
To walk in intimacy and love with others.
This is the richest blessing, the greatest gift and the beautiful legacy of your walk and life amongst us.
Thank you so much for all my friends and loved ones.
Amen.
(a short prayer of thanks from www.lords-prayer-words.com)
An inspiring and beautiful short film which celebrates God's goodness and love in our lives:-
I Am Worthy
(a prayer of thanksgiving)
I am worthy to sit at your table
Only because of your grace.
I am adopted into your great family
A child of an eternal King.
I am free from the fall that surrounds me
I'm hidden with Christ purified.
I am walking in promises every day
For you fill up my dreams with new life.
I am sheltered by my Abba Father
He knows me and loves me by name.
I am so thankful to be blessed and cherished
Your goodness I'll forever proclaim.
(a thanksgiving from www.lords-prayer-words.com)
•
Click here to read more inspiring thanksgiving prayers,
with uplifting meal time graces and family prayers.
Childrens Thank You Prayer for Food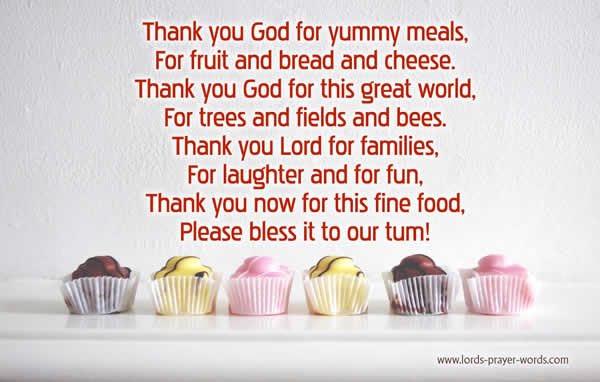 Thanksgiving Prayer
For each new morning with its light,
For rest and shelter of the night,
For health and food,
For love and friends,
For everything Thy goodness sends.
Ralph Waldo Emerson (1803-1882)
A uplifting prayer which gives thanks for God's goodness and grace in our lives:-
An inspiring verse that leads us to thanks and praise of God:-
I will sing joyful praises and be filled with excitement like a guest at a banquet.
Psalm 63:5, (CEV)
A beautiful prayer reflecting on how God walks with us through each season of our lives:-
Prayer of appreciation
(a prayer of thanks for the blessings in life)
Lord
Let the details in life take my attention today
A warm mug of tea
The gentle grass under my feet
And the chance just to gather and eat
O Lord
Let the everyday pleasures ring out melodies in my heart
The smile of a friend
A warm comfy bed
The sunlight on the trees and walks in the park
O Lord
Let the more ordinary reveal its amazing delight
Clouds drifting by
Birds sweeping high
The sunset that transforms day into night
Lord
May these things inspire me to praise
And bring a clear moment of sight
Now I see how amazing the world truly is
And soak in Your goodness and light
(a prayer of appreciation from www.lords-prayer-words.com)