Family Prayer Blessing
A short prayer suitable for sending as a blessing to a loved one in your family:-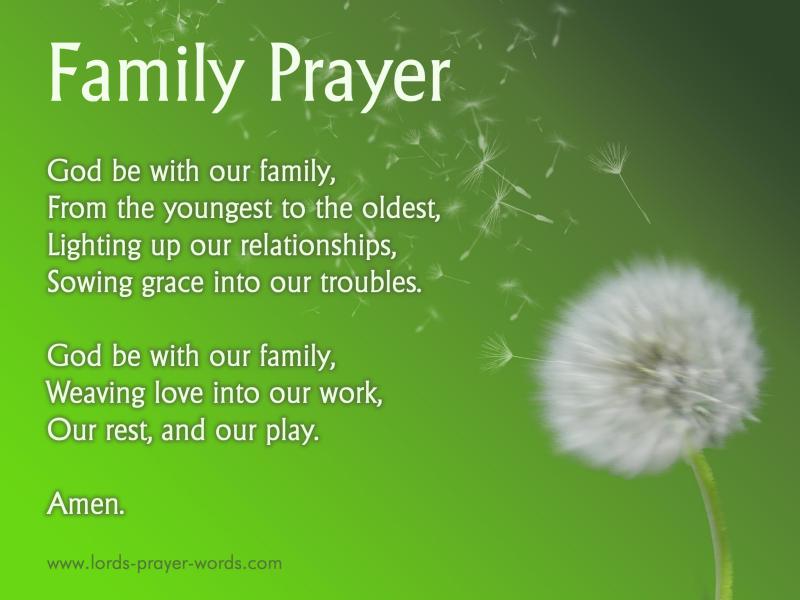 Family reunion prayer
Father God,
Thank you so much for bringing us all here together today.
Thank you for the wonderful blessing of family.
Thank you for the similarities we have and the differences we enjoy.
Thank you for the wisdom of age and the energy of youth.
Thank you for the way you watch over us as individuals and the way you release your love into us as a unit.
Come bless our time together.
Amen.
(a prayer for the family from www.lords-prayer-words.com)
Catholic Family Prayer
(In Honor of the Holy Family)

O God, Heavenly Father, it was part of Thine eternal decree that Thine only-begotten Son, Jesus Christ, the Savior of the human race, should form a holy family with Mary, His blessed mother, and His foster father, Saint Joseph. In Nazareth, home life was sanctified, and a perfect example was given to every Christian family. Grant, we beseech Thee, that we may fully comprehend and faithfully imitate the virtues of the Holy Family so that we may be united with them one day in their heavenly glory. Through the same Christ our Lord. Amen.


Prayer for family unity

Dear Lord God,

You created balance.

The night to follow the day.

The sea to touch the earth.

All the wonderful animals, fish and birds.

You are the great creator of variety and diversity.

Thank you that you made us all to be unique and reflect your love.

Come draw our family together in all it's wonder and beauty.

Help us to love and respect each other.

Show us how to support and encourage one another.

Inspire us to work together to become a picture full of your perfect love.

Amen.

(a prayer for family unity from www.lords-prayer-words.com)
Thanksgiving dinner prayer
O Lord,
How full is this world of your unending creativity.
How astounding is creation in all its variety.
How breathtaking is new life, growth and transformation.
How wonderful is your provision for us your children!
This day, we celebrate your great goodness with thankful hearts and joyful lives.
Amen.
(a mealtime prayer from www.lords-prayer-words.com)
A beautiful blessing for the keeping and wellbeing of your loved ones:-

An Evening Family Prayer

Lord, behold our family here assembled.
We thank you for this place in which we dwell,
For the love that unites us,
For the peace accorded to us this day,
For the hope with which we expect the morrow;
For the health, the work, the food and the bright skies
That make our lives delightful;
For our friends in all parts of the earth.
Amen.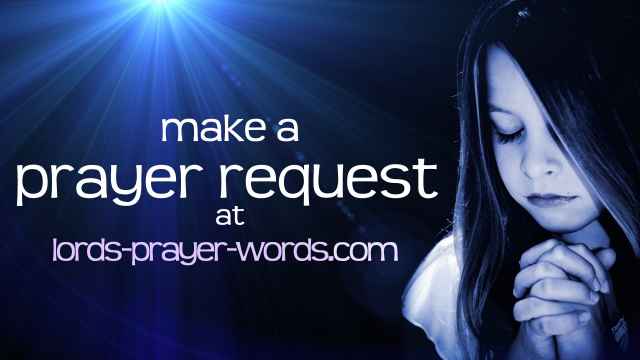 post a prayer for your family here
An uplifting prayer for families currently going through difficult times:-
(some practical suggestions for creating a good family prayer life together)
•
Look for opportunities to pray together
Think about the points in the day when your family naturally comes together and consider taking a moment to pray at these times. For example, there are many great
morning prayers
that you could try after breakfast. If you already pray at
meal times
, consider changing how you do this. Be creative - there's no rule book as to when you should pray - it can be before or after (or during!) your meal together. Sometimes praying at spontaneous moments can really make us think about what we are doing. It's also a good idea (for practical reasons!) to keep prayers short and concise over the dinner table - remember prayers don't have to be long to be effective!
•
Praying as family on special occasions
There are lots of significant days in the year when you can gather together as a family and pray. For example, at
birthdays
, anniversaries, Christmas and of course on
Thanksgiving day
. There may also be times that you will want to come together and pray for sick child or parent for God's healing.
•
Pray without ceasing
Praying as a family does not just have to be restricted to praying together! You can pray for members of your family at any time, whether they are in the next room or across the oceans! Whenever you become worried or anxious about your family member, why not turn those feelings into pray? Paul said " Do not be anxious about anything, but in every situation, by prayer and petition, with thanksgiving, present your requests to God" (Philippians 4:6, NIV)
A family that prays together stays together
anon.
Family Prayer Blessing
God be with our family,
From the youngest to the oldest,
Lighting up our relationships,
Sowing grace into our troubles.
God be with our family,
Weaving love into our work,
Our rest, and our play.
Amen.
(a family blessing from www.lords-prayer-words.com)