Gathered together on this page are inspiring prayers to help with fostering self-assurance and inner courage, with an uplifting prayer for self-confidence and beautiful prayer for mental strength. There is also a prayer video for drawing close to Christ, based on the famous prayer of St Richard ("Day by Day"), and a short prayer for encouragement and guidance.
Prayer for self-confidence
(a prayer for courage in myself)
Who am I Lord?
Call my name and help me walk with confidence, redeemed.
Who am I Lord?
Released and free, not chained with fear and regret.
Who am I Lord?
Son or daughter of the King who is most high.
Who am I Lord?
Mistakes and faults fall like dust, as your grace lifts me high.
Who am I Lord?
I am above, all seated with the Son of God.
Who am I Lord?
Unique and precious, called by name and made new and whole.
Who am I Lord?
The one who walks with Jesus spirit deep inside.
Who am I Lord?
No less, no more, just as I am, I need not hide.
Who am I Lord?
It is enough to stand in peace before my King.
(a prayer for inner confidence from www.lords-prayer-words.com)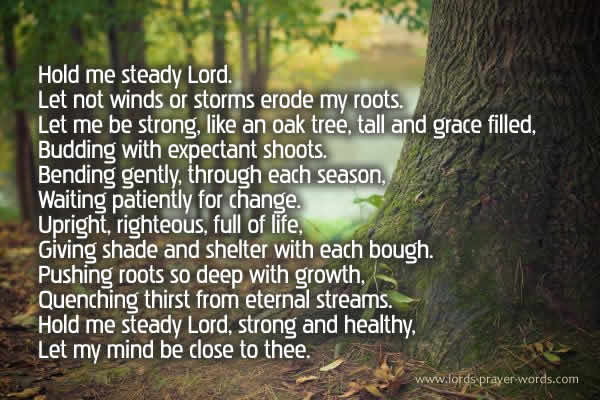 A prayer for encouragement and strength
Lord,
You are the wind in my sails
You guide me as I steer and find direction.
You give me the strength to keep on going.
You watch over me as I navigate stormy seas.
You are the harbour where I stop for rest.
You are my encourager when I lose hope.
You are the lighthouse that keeps my path safe.
You are with me always.
Thank you.
Amen.
(a short prayer of encouragement from www.lords-prayer-words.com)