Farewell Prayer
This page gathers together several uplifting examples of prayers and blessings suitable for farewell services, messages and cards. There is an inspiring farewell prayer for a friend, a prayer for a teacher for a school leaving service, and an encouraging prayer for someone about to retire. There is also a beautiful traditional Irish blessing and an ancient Judeo-Christian prayer.
Farewell Prayer
(a farewell prayer for a friend)
As you go my friend, you walk upon a bed of love,
On which our prayers are falling softly every day.
As you go, remember that our hearts will hold you close.
You're treasured, and we will cheer you on your way.
As you go my friend, you travel with Christ at your side.
His light will show a path and be your guide.
As you go, be hopeful that you're following your dreams.
We celebrate this new season of your life.
(a farewell prayer from www.lords-prayer-words.com)
A Farewell Prayer for a teacher
(suitable to read at a service)
Dear God,
Thank you for giving us the opportunity to learn through this wonderful teacher. We thank you for her (his) wonderful knowledge of her subject and her enthusiasm for passing on this passion to others. Come bless her now as she goes on to new things.
Amen.
(a school prayer from www.lords-prayer-words.com)
There are no goodbyes for us. Wherever you are, you will always be in my heart.
Mahatma Gandhi
Farewell blessing prayers
An uplifting Celtic blessing entitled "May The Road Rise Up To Meet You":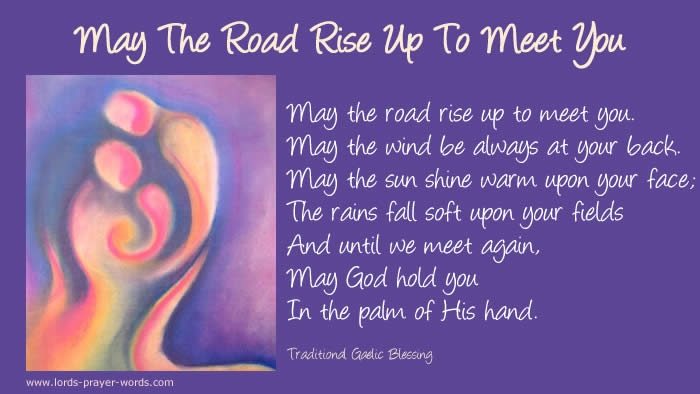 A Judeo-Christian blessing based on Numbers 6:24-26:
May The Lord Bless You
May the Lord bless you and keep you.
May the Lord make his face to shine upon you,
and be gracious to you.
May the Lord lift up his countenance upon you,
and give you peace.



A beautiful version of this famous blessing suitable for including in a farewell service:-
A Retirement Prayer
Lord, here I stand with a new horizon ahead of me. I know I am entering a later phase of life, yet I feel so much the same inside.
Help me to seize each sunrise, and fully live each day. May I be guided by You, and walk into this new landscape with hope and confidence.
May I engage with the beauty of creation, and connect with the passions, hopes and dreams I had as when young.
My prayer is not to leave anything behind, but to walk forwards into all I can be, all I can enjoy, and all I can give.
To this new page
The next chapter of my life
- Shared with You.
Amen.
(a prayer for someone who is about to retire from www.lords-prayer-words.com)