Harvest Prayer
(the words of this prayer are featured in the video above)
Father, as we celebrate this season of thanksgiving We give thanks for the blessings of food, provision and nourishment.

Please grow in us a harvest for the world. Come sow a seed of hope within our souls Lord, that we might yield goodness, patience and kindness in abundance.
Sow a seed of peace in our lives Lord, that we might bear the fruits of forgiveness, compassion and righteousness.
Come sow a seed of love in our hearts Lord, that others would reap the blessings of family, friendship and community.

May each seed of hope, peace and love grow within us into a harvest that can be feasted on by all.

Amen.

(Prayer by Julie Palmer © 2018 www.prayerscapes.com)

Most gracious God, by whose knowledge the depths are broken up and the clouds drop down the dew:
We yield thee hearty thanks and praise for the return of seedtime and harvest,
for the increase of the ground and the gathering in of its fruits,
and for all the other blessings of thy merciful providence bestowed upon this nation and people. And, we beseech thee, give us a just sense of these great mercies,
such as may appear in our lives by a humble, holy, and obedient walking before thee all our days;
through Jesus Christ our Lord, to whom, with thee and the Holy Ghost be all glory and honor,
world without end.
Amen.
source: Book of Common Prayer, 1979 version, Protestant Episcopal Church in the USA.
Short Harvest Prayer
King David's prayer of thanks (Psalm 138)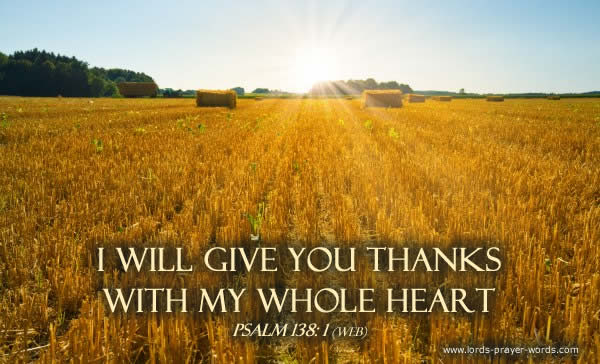 Short Thanksgiving Prayer
Lord, thank you for walking with us through the seasons of our lives.
For the winter, when we are held safe in your arms through the darkness.
For the hope of spring, as we are filled with new promise and life.
For summer time, full of warmth and colour
And for autumn days as leaves fall to seed new growth.
You are always with us.
Amen.
(a short prayer of thanksgiving from www.lords-prayer-words.com)
The beautiful prayer written out above is featured here in this short film, which thanks God for His presence through the changing seasons of life:-
Childrens Prayers for the Harvest
Thanksgiving Prayer for Children
Lord, thank you for the flowers and thank you for the trees
Thank you for my special friends and all the fun they bring
Thank you for the food I eat and thank you for my drink
But most of all I thank you for the way you love me
(a modern prayer of thanks to God from www.lords-prayer-words.com)
For each new morning with its light,
For rest and shelter of the night,
For health and food,
For love and friends,
For everything Thy goodness sends.
(Ralph Waldo Emerson - 1803-1882)
Bible verse for Harvestime:-
Then he said to them, "The harvest is indeed plentiful, but the laborers are few. Pray therefore to the Lord of the harvest, that he may send out laborers into his harvest.
Luke 10:2, (NHEB)