Prayer for strength for a friend
(a prayer for someone who is going through a hard time)


God be surrounding you, his peace be yours,
Amidst this great storm you're safe in his arms.
God be above you, his lighthouse will shine,
Rays of pure kingdom light gently down.

God be behind you, with waves that will cleanse,
Sweeping away hurt to new life again.
God be beneath you, your bare feet will tread
Upon softest grace sand wherever you're led.

God be beside you, you walk hand in hand,
Filling your mind with new colours and plans.
God be within you, restoring your soul,
With breezes of healing and eternities gold.


(a prayer for a friend from www.lords-prayer-words.com)

Prayer for strength
Dear Lord,
I come before you and ask for Your strength within me.
A strength not of the world but of Your kingdom.
To refrain from judgement and feast on love.
To push out greed and hold tight to joy.
To dispel pride and rise with humility.
To quell anger and rest in self control.
To shun greed and rest in giving.
To turn from power and embrace service.
To let go of resentment and rest in peace.
To push through fear and walk forwards in grace.
To run with faith, soar with forgiveness,
And allow your eternal strength to abide with me.
Amen.
(a contemporary prayer for strength from www.lords-prayer-words.com)
A famous scripture about the Lord's promise to give strength to the weary. After reading this you may want to meditate on the line about soaring like an eagle and receive God's power in your life:-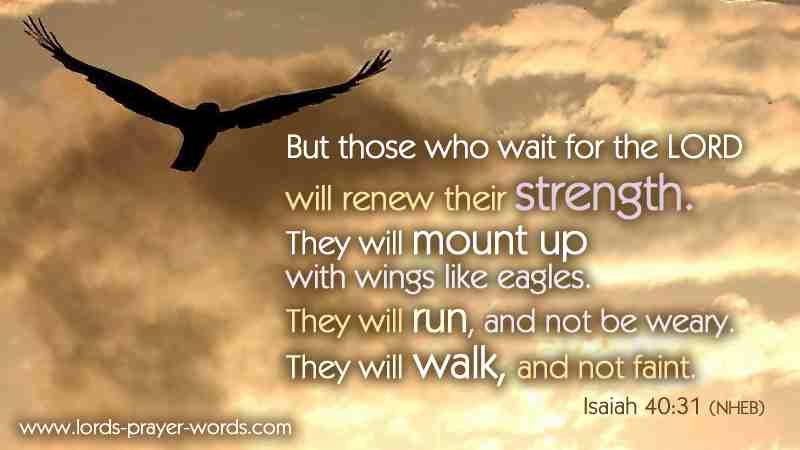 Prayer for Strength at Work
You are my strength Jesus.
Help me to carry the responsibilities with grace.
Help me to lift each worry or burden to You.
Help me to defend truth, justice and righteousness in my practice.
You are my strength Jesus.
Thank you.
(a prayer to say before work from www.lords-prayer-words.com)
Prayer for healing and strength
"But if the Spirit of him who raised up Jesus from the dead dwells in you, he who raised up Christ Jesus from the dead will also give life to your mortal bodies through his Spirit who dwells in you"
(Romans 8:11 WEB)
Father, thank you that you sent your Son to bring me life
Life in the fullness
Life for eternity
Thank you that I share in Christ's resurrection life
That Christ is alive in me
And His Spirit dwells deeply in my being
Right now I receive your healing
I receive the same power that raised Christ from the grave
I receive Your life
I receive Your strength
Thank you that all things are possible for those who believe
Thank you that you are moving in me right now
May I continue to receive from you
This hour and every hour.
Amen.
(a modern prayer for healing and strength from www.lords-prayer-words.com)
This prayer may be suitable if you are currently suffering the loss of a loved one, or are grieving in some way. A short (2.30 film) with images of beautiful trees in blossom and calming music:-
Prayer for strength when grieving
Here are the words to the prayer in the above video:-
Lord, at the moment nothing seems to be able to help the loss I feel.
My heart is broken and my spirit mourns.
All I know is that Your grace is sufficient.
This day, this hour
Moment by moment
I choose to lean on You,
For when I am at my weakest Your strength is strongest.
I pour out my grief to You
And praise You that on one glorious day
When all suffering is extinguished and love has conquered
We shall walk together again.
(a modern prayer for strength from www.lords-prayer-words.com)
Prayer for Strength and Guidance
O Lord,
I give you my worries and concerns and I ask for your guidance. You see it all, the outer circumstances, the inner turmoil. I know that you understand my life, that sometimes my heart weighs heavy with trouble. Right now I lay all these things before you. I breathe in, safe in the knowledge that I am held by grace. I breathe out, knowing that I am held secure in your arms. And I wait on you. For you are all truth, you are overflowing love, you are a beacon of hope and a fortress of faith.
Lord, I choose to be attentive to your voice. May I be alert to your Spirit's guiding as I journey onwards with you.
I love you Father. Amen.
(a prayer for guidance from www.lords-prayer-words.com)
An inspiring prayer for God's strength lead by prayer poet Julie Palmer from Prayerscapes:-
Prayer for strength and faith
Father,
Today, I forgot that I am your child,
I lost my identity, just so lonely and tired.
I felt small and wounded, my spirit lacked hope,
Confusion came over my mind and my heart.
Then a small seed of prayer formed and cried out to you,
Father, my Father come make me anew.
Slowly and gently a new feeling grew.
I'm adopted and cherished, held safe in you.
I inherit the Kingdom, I'm known and I'm loved.
I belong, I have value to heaven above.
I need not reject myself, for you will be,
The strength in my weakness, I'm here Lord use me!
Then I felt your great Spirit rise up within,
Cutting through chains that bind, washing each sin.
I began to wake up, to seek and to find,
A crown of salvation that covers my mind.
A strong coat of righteousness, I wear over my heart,
And a bright belt of truth which sets me apart.
For the sword of the Spirit is truly my guide,
I stand with feet ready, in Your love I reside.
(a prayer from www.lords-prayer-words.com)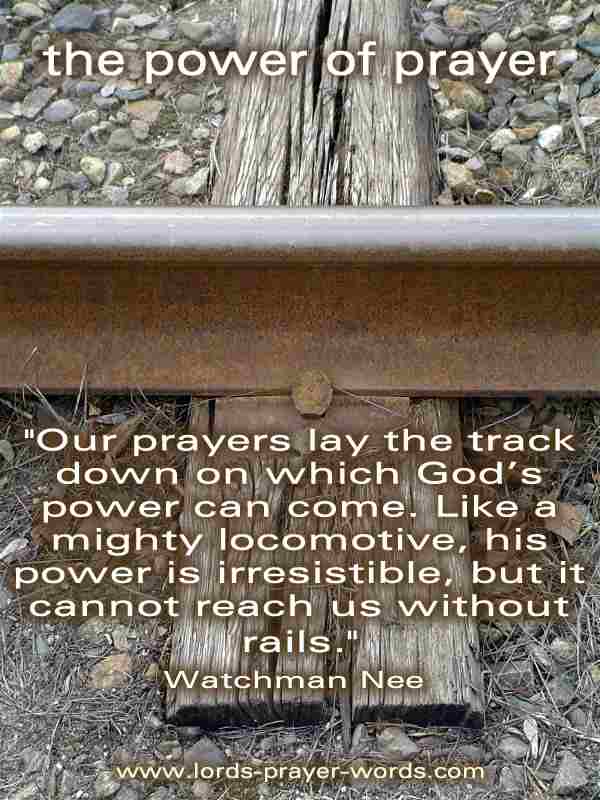 In his second letter to the Corinthian church, Paul refers to a "thorn in the flesh". He does not elaborate on the exact nature of his problem. Paul asks the Lord to remove this "thorn" from his life. God answers his prayer - but not in a way that perhaps Paul had hoped for or expected. Rather God works through his weakness to reveal the power of the resurrected Christ in his life:-
"And about this thing I made request to the Lord three times that it might be taken away from me.
And he said to me, My grace is enough for you, for my power is made complete in what is feeble. Most gladly, then, will I take pride in my feeble body, so that the power of Christ may be on me.
So I take pleasure in being feeble, in unkind words, in needs, in cruel attacks, in troubles, on account of Christ: for when I am feeble, then am I strong."
(2 Cor 12:8-10, BBE)
A suggested prayer for strength to cope with physical illness:-
Lord, you know me inside and out.
You know about my pain and distress,
you understand the fears of my heart.
At the cross you endured unabating agony.
You have gone before me into the darkness
And emerged in power and glory.
At this time I lean on You
I draw my strength from Your endless love
And live in Your limitless grace
Trusting in You.
(a prayer for strength from www.lords-prayer-words.com)
Short prayers about strength
Here are two short scriptures written by St. Paul. They speak of his personal testimony - how God strengthened him, and equiped him to accomplish great things:-
"I am able to do all things through him who gives me strength"
Phil 4:13, (BBE)
"...be strong in the Lord, and in the strength of his might"
Eph 6:10, (WEB)
In the last verse quoted here, Paul goes on to encourage the reader to stand in God's spiritual armour, strengthened and equipped by the "belt of truth", the "breastpalte of righteousness", a "shield of faith" and the "helmet of salvation". (
Eph 6:10-18
)
•
Take a moment to reflect on this short scripture and receive this heavenly equipping.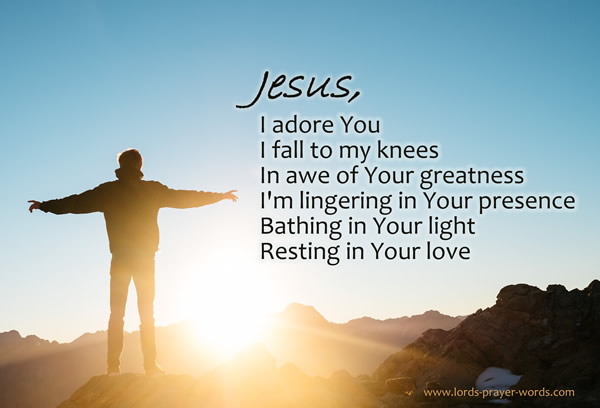 A Prayer for Strength and Wisdom
Make me strong in heart, let your life flow through me.
Bring a blessing of freedom and grace.
I come to the foot of the cross, once again.
I lay down the burdens that I feel,
And give you my troubles, my fears and my hurts.
I wait upon you.
I rest in your arms.
As I kneel in the sanctuary, oh my Lord and my King,
I will open my heart up to you.
Here in this sacred moment, I wait,
To hear your voice, to know your word.
I ask for your wisdom to fill my mind and thoughts,
And rest in your power.
(prayer from www.lords-prayer-words.com)
Short prayer for strength
Jesus, captain of my life, may your strength arise.
Deep to deep my heart will soar with you on grace filled skies.
Jesus, captain of my mind, may your hope take flight.
Wing to wing my faith will fly with you on promise bright.
Jesus, captain of my soul, may your love abide.
Heart to heart you cherish me, with you I come alive.
(a short prayer for strength from www.lords-prayer-words.com)