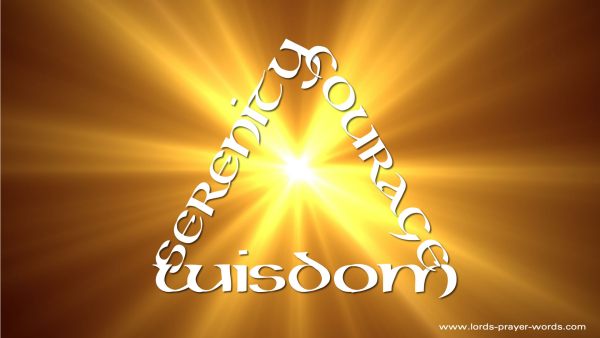 click here to enlarge this serenity prayer image to full resolution
"God grant me the serenity to accept the things I cannot change"
• Serenity is the place where we are calm, peaceful, and free from stress. Begin by stilling your being for one minute. You may want to play some calm, tranquil music such as this prayer music on Youtube. During this time offer to God any anxious thoughts from the day, or anything that may be preoccupying your thinking right now.
"Courage to change the things I can"
• The Apostle Paul writes "when I am weak, then I am strong". Bring to mind any areas in your life that you are failing in, and where you want to see change in. Ask God for His courage and strength to overcome these problems. As you meditate on the image above, allow God's light to flood your being with His strength and hope, just as the rays in the picture are flooding the words with light.
"And wisdom to know the difference"
• "For the Lord gives wisdom; from his mouth come knowledge and understanding."
(Proverbs 2:6, NIV)
Everything ultimately comes from our God in heaven - the clothes we wear, the food we eat, our families and loved ones, and the very breath in our bodies. Give thanks to God for His goodness and the wisdom that he has nutured in you. Offer Him your life and allow Him to lead you in the areas where change is possible, and ask for His grace to cover you in the areas where you feel things are too difficult for you right now.
• The words in the image above form the shape of a triangle. Just as this prayer has three elements yet is one prayer, so the Lord is three persons (Father, Son and Holy Spirit) and yet is one God - perfectly unified in love.
From wisdom we are led back to serenity, and a place of rest and calm. Before you finish spend one more minute receiving God's peace. Allow His peace to permeate your whole being.
"And the peace of God, which transcends all understanding, will guard your hearts and your minds in Christ Jesus"
(Philippians 4:7, NIV)