Soldiers Prayers
Gathered together on this page are several inspiring prayers and blessings for those in the armed forces. There is a prayer short enough to memorize (or for a soldier to keep on them) and a prayer for strength for those currently engaged in military conflict. There are also two intercessory prayers for soldiers, and a blessing suitable for sending to a loved one in the services. There is also the famous "Soldier's Psalm" in full (Psalm 91).
A Short Prayer For A Soldier
Dear Father
I am not alone,
You are by my side.
Hold me, guide me,
As I seek you serve you.
You have called me to rescue,
To protect and to make peace.
I am not alone,
You are by my side.
Amen.
(a short prayer for a soldier from www.lords-prayer-words.com)
A Prayer For those in the Armed Forces
Almighty God,
we commend to your gracious care and keeping all the men and women of our armed forces at home and abroad.
Defend them day by day with your heavenly grace;
strengthen them in their trials and temptations;
give them courage to face the perils which beset them;
and grant them a sense of your abiding presence wherever they may be;
through Jesus Christ our Lord.
Amen.
(Source: 1979 Book of Common Prayer, Protestant Episcopal Church in the USA)
A Soldiers Prayer for Strength
(when in conflict or war)
Lord Jesus,
I give you all my fears, the darkest thoughts and the troubles of my heart. I lay all these things down to you at the foot of the cross.
I choose to take the lightest path to walk this road with you, my comforter and my friend. I put my trust in you.
Lord, be in my dreams, transform them as I sleep. For all the harsh and tragic sights, only you can safely keep.
I wait on you to be my lead, my guide and my defence. I serve only you and pray for peace with those we fight against.
Lord Jesus, I ask that your endless grace would surround me every day, for you took all this, the harshest conflict to the cross and rose again.
Dear Lord, guard my mind, my heart and my soul and lead me in the way of hope. As I serve my duty here I lean on your wisdom, your love and your strength, and look forwards to the time when a new day dawns, and I return home to the peace again.
Amen.
(a soldiers prayer from www.lords-prayer-words.com)
A prayer for those in the armed forces
(a prayer for their protection and wise judgement)
Father God,
We pray for all those who faithfully serve to keep, protect and preserve justice, hope and love. May you encircle them with protection, and post angels to watch over your sons and daughters as they face danger. We pray that they would have great wisdom and judgement. Help them to work as a team, and care for each other.
Lord, come lead them in their prayers and answer them clearly, that they might be channels for your peace, ambassadors of justice, and bringers of hope. May you guard their hearts with you love, their minds with your truth and their bodies with your power.
We ask all this in the wonderful name of Jesus.
Amen.
(a prayer of intercession for those in the armed forces from www.lords-prayer-words.com)
Psalm 91
(N.B. This Psalm is often referred to as the "Soldier's Psalm")
1 He who dwells in the secret place of the Most High will rest in the shadow of Shaddai.
2 I will say of the LORD, "He is my refuge and my fortress; my God, in whom I trust."
3 For he will deliver you from the snare of the fowler, and from the deadly pestilence.
4 He will cover you with his feathers. Under his wings you will take refuge. His faithfulness is your shield and rampart.
5 You shall not be afraid of the terror by night, nor of the arrow that flies by day;
6 nor of the pestilence that walks in darkness, nor of the destruction that wastes at noonday.
7 A thousand may fall at your side, and ten thousand at your right hand; but it will not come near you.
8 You will only look with your eyes, and see the recompense of the wicked.
9 Because you have made LORD your refuge, and the Most High your dwelling place,
10 no evil shall overtake you; no plague shall come near your dwelling.
11 For he will put his angels in charge of you, to guard you in all your ways.
12 They will bear you up in their hands, so that you won't dash your foot against a stone.
13 You will tread upon the lion and the viper. You will trample the young lion and the serpent underfoot.
14 "Because he has set his love on me, therefore I will deliver him. I will set him on high, because he has known my name.
15 He will call on me, and I will answer him. I will be with him in trouble. I will deliver him, and honor him.
16 I will satisfy him with long life, and show him my salvation."
(Psalm 91, NHEB)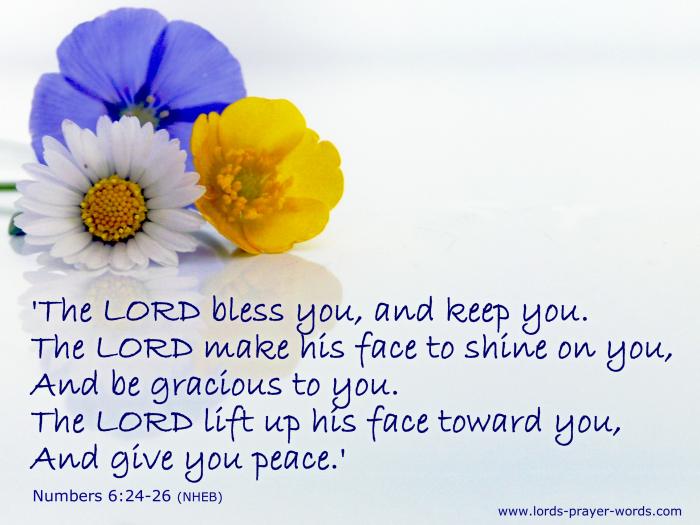 (A blessing suitable for sending to a loved one in the forces)


The Lord will protect you now and always wherever you go.
Psalm 121:8, (CEV)
Prayer for protection
(a blessing prayer to pray for those in conflict or danger)
May the three enfold you
Father, Son and Holy Spirit
Hold you safe and hold you strong
May the three encompass you
Father, Son and Holy Spirit
Encircle your life each day and night
May the three protect you
Father, Son and Holy Spirit
Guard your door and keep each gate
May the three watch over you
Father, Son and Holy Spirit
Still your heart and calm all fear
(a modern prayer for protection from www.lords-prayer-words.com)
Here are the words of the above prayer featuring in a short film on God's protection:-