Prayer for Relationship with Boyfriend
This page brings together several uplifting prayers for praying for your partner, with a short prayer for your boyfriend and a prayer for help to restore a relationship where it is difficult or distant. There is also a prayer for strengthening your friendship, and a beautiful famous prayer (the Prayer of St Richard) that you can pray daily with your loved one.
Prayer for relationship with boyfriend
(a prayer for the strengthening of our relationship)
Dear Lord,
I feel so blessed to be in this relationship, I never dreamed I would have a boyfriend as wonderful as this one.
Please strengthen our relationship, help us to connect, to share our lives and to nurture our love. Help us to work around our differences and needs so that we create an equal partnership. Lord, please guide our hearts and direct our paths as we journey together.
Father, I ask that you would protect and keep my true love every day. He is so precious to me, he is such a gift and a blessing.
Amen.
(a contemporary prayer from www.lords-prayer-words.com)
Prayer of St Richard
a beautiful traditional prayer to pray daily with your partner:-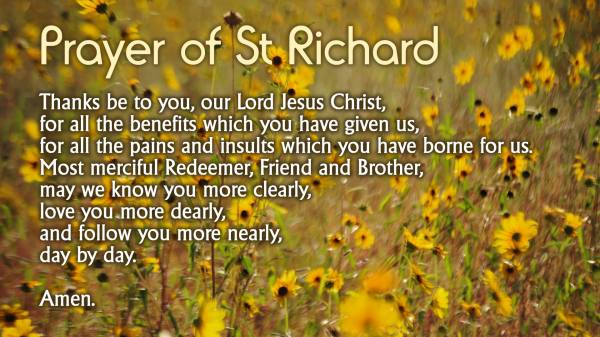 Prayer to restore my relationship with my boyfriend
(a prayer for when the relationship has become distant or difficult)
O Father,
We need you. I love my boyfriend so much but find that we sometimes argue and clash. Please help us, remind us of your love, show us the wisdom of forgiveness and help us to hold one another in grace. Lord, please draw near to us as we work to resolve our differences. Come guide our hearts as we seek to become closer and understand each other better. Help us to learn how to love, care for and uphold one another.
We look to you Lord, we walk with you.
In the name of Jesus,
Amen.
(a prayer for restoration from www.lords-prayer-words.com)
Love is our true destiny. We do not find the meaning of life by ourselves alone - we find it with another.
Thomas Merton (American writer and theologian)
A beautiful reflection on the remarkable nature of Christian love:-
Prayer for love relationship
(a prayer for the strengthening of a couples relationship)
As we draw near to you,
Quiet our minds
Refresh our spirits
Inspire our hearts
Bind us together
With your truth.
We dwell in your promise
Rest in your grace
Bathe in your restoration
Meditate on your goodness.
Bind us together
With your love.
(a modern prayer for couples from www.lords-prayer-words.com)