#4. An Irish Blessing
an inspirational blessing about provision, loving friendship and joy :-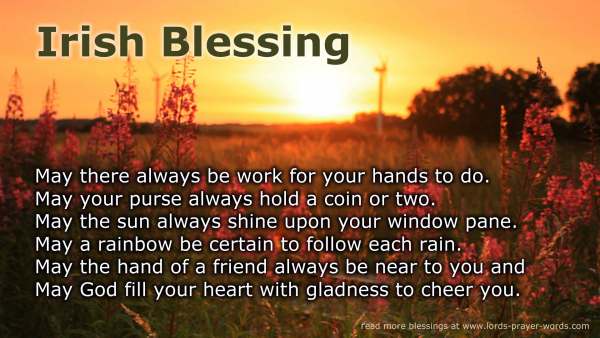 #5. May The Road Rise Up To Meet You
May the road rise up to meet you.
May the wind be always at your back.
May the sun shine warm upon your face;
the rains fall soft upon your fields
and until we meet again,
may God hold you in the palm of His hand.
(traditional gaelic blessing)
A song based on this blessing
A folk song based on this traditional Irish blessing, from prayerscapes.com:-

listen to the music in this film on Spotify
#6. Prayer message for healing
a prayer for a friend or loved one who is currently sick:-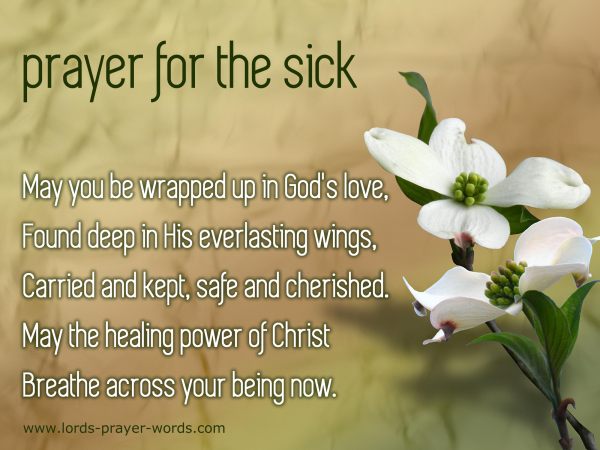 click here
for several prayers for healing, and to post a prayer for those known to you who are ill at the moment.
#7. Scottish Blessing
May the blessing of light be on you
May the blessing of light be on you– light without and light within. May the blessed sunlight shine on you like a great peat fire, so that stranger and friend may come and warm himself at it.
Read the full version of this on the scottish wedding blessings page
#8. Short Prayer Message
May the God of peace who raised Christ from the dead
Strengthen your inner being for every good work.
And may the blessing of God Almighty
Father, Son and Holy Spirit
Rest upon you and dwell within you
This day and evermore.
Amen.
(a modern benediction prayer from www.lords-prayer-words.com)
A printable image of "May The Road Rise Up To Meet You":-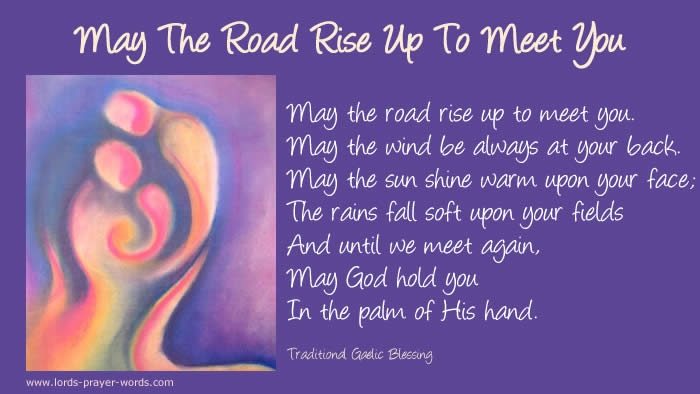 #9. May the Lord Bless You
May the Lord bless you and keep you.
May the Lord make his face to shine upon you,
and be gracious to you.
May the Lord lift up his countenance upon you,
and give you peace.
(A Judeo-Christian blessing, based on Numbers 6:24-26)
#10. House Blessing Message
An inspiring prayer that you can send to friends or family when moving into their new home:-