New Year Prayer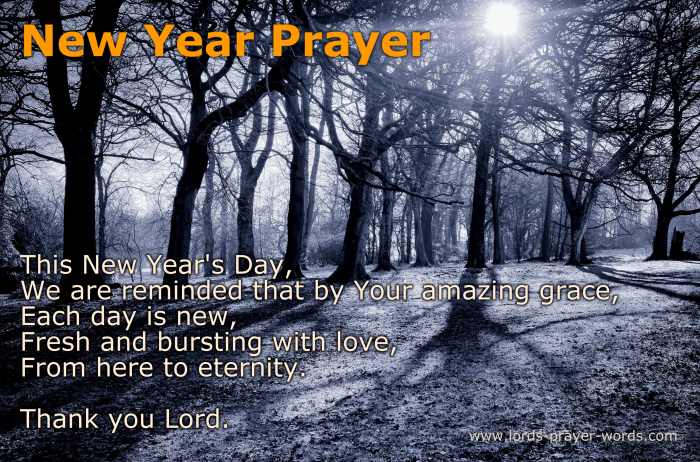 A New Year's Prayer
Lord, You make all things new
You bring hope alive in our hearts
And cause our Spirits to be born again.
Thank you for this new year
For all the potential it holds.
Come and kindle in us
A mighty flame
So that in our time, many will see the wonders of God
And live forever to praise Your glorious name.
Amen
(A modern prayer for the New Year from www.lords-prayer-words.com)
An uplifting message for blessing those you love and think about at this time of year, which asks for God's peace and hope to be with us all:-
Ancient Irish Blessing
(A prayer suitable for sending as a New Year blessing to a friend or loved one).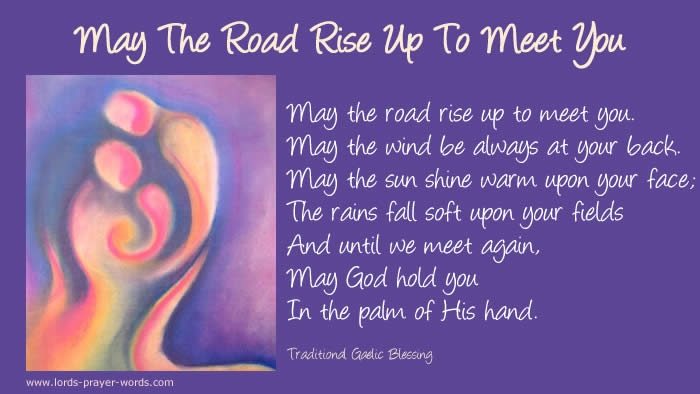 Celtic Prayer
In Celtic spirituality, every day is a new day with God, a new start. A good interpretation of the following prayer can be found at this blog
God, bless to me the new day,
Never vouchsafed to me before;
It is to bless Thine own presence
Thou hast given me this time, O God.
Bless Thou to me mine eye,
May mine eye bless all it sees
I will bless my neighbour,
May my neighbour bless me.
God, give me a clean heart,
Let me not from sight of Thine eye;
Bless to me my children and my wife,
And bless to me my means and my cattle.
A traditional Celtic prayer translated by Alexander Carmichael (1832-1912), compiler of oral traditions in Scotland. Source: Academia
Anglican Prayer suitable for the start of a new year:-
Almighty and eternal God, so draw our hearts to
thee
, so guide our minds, so fill our imaginations, so control our wills, that we may be wholly
thine
, utterly dedicated
unto
thee
;
and then use us, we pray
thee
, as
thou wilt
, and always to
thy
glory and the welfare of
thy
people; through our Lord and Savior Jesus Christ.
Amen
.
source: Book of Common Prayer, 1979 version, Protestant Episcopal Church in the USA.
Cheeky Monkey TV is a fun way of helping children learn about prayer. In this episode, Cheeky Monkey learns about making New Year resolutions, and leads us in a prayer which asks for God's help:-
New Year's Day Prayer
This New Year's Day,
We are reminded that by Your amazing grace,
Each day is new,
Fresh and bursting with love,
From here to eternity.
Thank you Lord.
a contemporary New Year's Day prayer from www.lords-prayer-words.com
A Good Catholic Prayer for the New Year can be found here at
Loyola Press