Prayers for Pregnant Women
This page has three beautiful prayers for women during pregnancy. The first prayer celebrates the wonder of new life and asks for God's care, protection and peace for both the precious unborn baby and the mother-to-be. The second prayer is an inspiring Irish blessing, suitable for sending to a pregnant friend. Finally there is a prayer for safe delivery during labor which reflects on God's faithfulness and love.
Prayer for a Pregnant Woman
O Father,
I carry within me,
New promise.
I cherish the very breath of creation within me.
Stirring within my womb, growing and changing each day,
I am amazed by this tiny miracle,
By the wonder of this little life.
I wrap us both in your love.
We cuddle up to your promises,
We snuggle beside your hope.
We are covered by truth,
And protected by your almighty hand.
We sleep with peace,
We sing with the angels,
And rest in you always.
Amen.
(a prayer for a pregnant mother from www.lords-prayer-words.com)

• follow this link for a prayer of thanksgiving and protection during pregnancy, and prayers for conceiving a baby.
Prayer for a Pregnant Friend
An ancient Irish blessing suitable for sending to a friend or loved one:-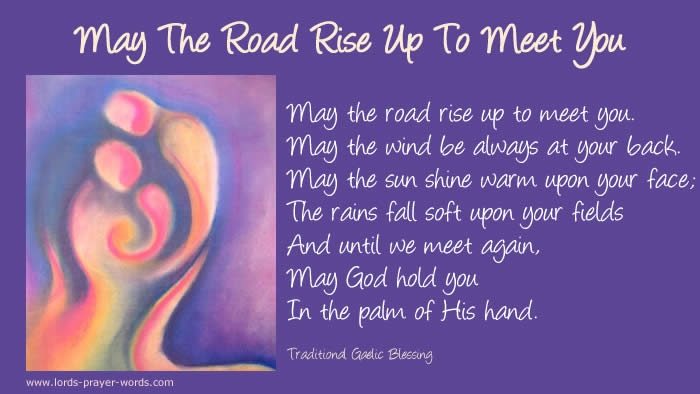 Prayer for safe delivery
(for a pregnant woman in labor)

Father God, who placed the stars in the sky,
Who created seas of blue and causes each flower to bloom.
I know you love me and have watched this new little life I carry.

Come lay your gentle hand upon us as we draw near to the birth.
Fill our hearts with excitement,
Cover our lives with hope.
Guide us through labor,
Into a new season.

I give you both my joys and fears,
And choose to put my trust in you.
I trust in you to shelter us both,
Mother and child, within your safe arms.

Amen.


(a prayer for a woman in labor at childbirth from www.lords-prayer-words.com)